New Honda S2000 could get green light
The Honda S2000 could return as a new sub-NSX sports car if there is enough demand
Honda has hinted that it could introduce a new S2000 if the company is confident it can sell enough of them to make a business case.
Speaking at the 2017 Tokyo Motor Show, Takahiro Hachigo said: "Honda is quick to develop sporty cars if requests are there. I've already heard many voices expressing a desire for a new S2000.
"All over the world there are more and more voices expressing a desire to launch this. However, we need more time to evaluate," Hachigo-san added. "Our first priority is to have an evolution of our current performance cars for the next generation, but if the sales people can give us a commitment to sales then it [S2000] might get the green light."
The news comes after a set of patent renders submitted by Honda were discovered, hinting at a potential new sports car in line with our predictions. The patent iself pertains to the car's interior, not the exterior design.
Back in 2015 we reported that an S2000 replacement, dubbed the Baby NSX would feature a mid-mounted version of the Civic Type R's 2.0-litre turbocharged four-cylinder engine. Now, according to a source close to Honda, pressure to adhere to stringent emissions regulations has forced the company to downsize the engine to a 1.5-litre turbo which, with electric motor assistance, is expected to generate around 300bhp.
Design inspiration will mainly come from Honda's flagship NSX, seen in the angular LED headlamps, wide air intakes and sculpted rear end of our image. And while the original S2000 was only available as a roadster, Honda is set to change direction and offer the successor as a coupe only.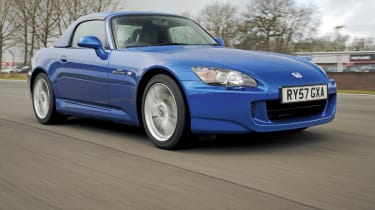 In 2015, a source close to Honda told Auto Express that a price of around £50,000 would be the sweet spot got any new sub-NSX sports car, and the S2000 replacement could go some way towards boosting the brand's image in the US, Europe and other markets like Australia. "The Civic Type R is a good start, but the NSX will be out of reach for many. So Honda really needs a signature mid-engine sports car that does not break the bank and appeals to fans at the same time," revealed our source.
Another critical factor for the new coupe is the company's relationship to Formula One. The new S2000 could incorporate F1 technology and be developed in conjunction with Honda's F1 engine programme. Our source explained: "When Honda made its last F1 comeback in 1999, it basically coincided with the development of the original S2000. That's where you got the first-generation's screaming 9,000rpm engine."
Can Honda climb to the top of the £50k sports car sector? Let us know your thoughts in the comments below...
Fast Hondas Special