The future of Honda: Q&A with Honda boss Takahiro Hachigo
Honda's new CEO provides us with an exclusive insight into his vision of the brand's future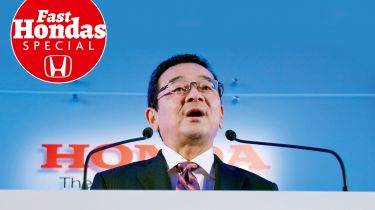 2015 has been a massive year for Honda, with a raft of exciting new and updated models, plus a return to Formula One. But it's not stopping there, with a new NSX on the horizon and one of the stars of the Frankfurt Motor Show, the 2&4.
To find out more about Honda's resurgence and what lies ahead, we caught up with another new Honda arrival, CEO Takahiro Hachigo, who only took over the top position in February, and quizzed him on his plans for the brand.
Q: It's been a busy year so far for Honda, after a very quiet time – why have we been waiting so long for new models and then they all arrive at once?
A: "Honda has taken steps to evolve our global operations to swiftly respond to the needs of an increasingly competitive, ever-changing global marketplace and deliver products that will satisfy our customers. The new Jazz and new HR-V, which were both developed under this system and employ our next- generation drivetrain, can be called truly global models.
"It just so happened that 2015 was the year in which the timing of the launch of the new Jazz and HR-V fell, and this coincided with the minor model changes of the Civic and CR-V."
Q: The headlines about Honda recently have been focusing on fun: the Civic Type R, upcoming NSX, the return to Formula One – is that because Honda's image had become a little dull? 
A: "I don't think Honda's brand image had become dull. The focus at Honda has always been on producing cars that are fun to drive. It is not something that began with the new Civic Type R or NSX. At Honda, we refer to our 'challenging spirit'. Motorsport, including F1, has been close to our hearts at Honda since we first got involved in the sixties. 
"We regard motorsport as a space in which to test technologies and develop engineers, not a means by which to improve our brand image."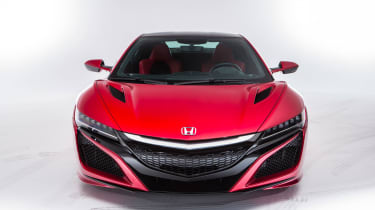 Q: Is Honda's future SUV-shaped, following the general trend across the market, or are we likely to see a return to more traditional models like the Accord?
A: "The SUV segment, which includes crossovers (CUVs), is an area of the market that has seen sudden growth, both in Europe and the wider world. I think it will continue to expand going forward. The new HR-V, launched this year, meets the requirements of this market.
"Meanwhile, as regards the Accord, there are no current plans for a successor model in Europe. However, we do understand the strength of the D-segment in the European market and will continue to monitor opportunities in this sector going forward."
Q: Another trend is towards smaller, more environmentally friendly cars – will we see smaller Honda cars or will there be an urban mobility crossover between cars and bikes?
A: "It's evident that there is a general downsizing trend in the market, and Honda has always been good at space efficiency and we'll continue to develop small cars, especially when thinking about customer needs in big cities. Honda has developed the MC-β for Japan, a micro commuter currently undergoing verification tests. We will continue our research in this area by listening to the voice from the market and we want to make use of the strength of being both an automobile and motorcycle manufacturer, in order to respond to the changing needs and demands of customers."
Partnership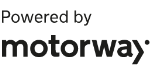 Need to sell your car?
Find your best offer from over 5,000+ dealers. It's that easy.
Q: What part does Europe and the UK play in the development of future Honda products?
A: "We recognise that the development of both the diesel engine and downsized turbo technology to new levels has been driven by European market demand. Europe also has one of the highest standards for car safety requirements and environmental standards. 
"Striving to be successful in such a unique and competitive European market and getting feedback from European customers is significantly important for Honda, because we believe it will further contribute to our product development and make Honda globally competitive."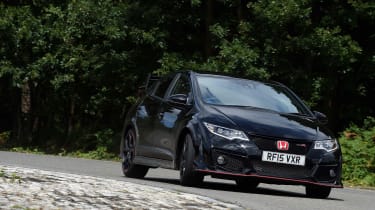 Q: Is Honda committed to car production in the UK, even if the UK leaves the European Union?
A: "Honda remains firmly committed to car production in the UK and Europe. Our production activity in the UK plays a key role for our business in terms of providing products to the European market… and beyond. 
"As we announced in late March 2015, Honda will invest a further £200million into Honda UK Manufacturing (HUM) into new, advanced production technologies and processes. This move will help to secure the long-term role and future of HUM and Honda car manufacturing in Europe.
"It brings Honda's total investment in HUM to over £2.2billion since 1985. Furthermore, HUM will become a global production hub for the next-generation Civic five-door model, which will be exported to key global markets, including North America.
"These are major milestones as we underline the importance of the region to Honda globally and secure a strong future for our car manufacturing in Europe."
Q: There's so much goodwill towards Honda in F1, but much frustration, too – how would you summarise the season so far and when will Honda win again in F1?
A: "Ever since its establishment, Honda has been a company which strengthens its technology, associates, and its company structure by taking on challenges in racing. Because we maintain this spirit, Honda made the decision to once again take the challenge to race in F1 as a powertrain supplier, with McLaren as our partner. 
"However, as you pointed out, we have found the competition in F1 is even fiercer than expected, especially with regards to advanced hybrid technology, and we are now facing a challenging moment. 
"We understand it is not an easy task, and we should not expect a radical change in our performance in the near future, but we remain dedicated to achieving the first win with this team and we will continue to make our best efforts with McLaren to achieve better results and success in the future."
Tell us what you think of Honda's plans for the future in the comments section below...
Fast Hondas Special