Hyundai partners with Aurora in bid for self-driving cars by 2021
Hyundai targeting level 4 autonomous vehicles on roads globally early next decade, with help from a US based tech start-up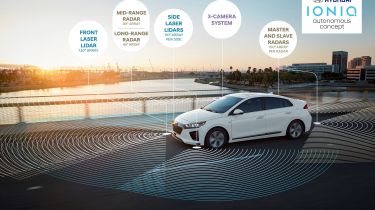 Hyundai has announced a new technical and strategic partnership with US based tech start-up Aurora to bring self-driving Hyundai cars to streets globally by 2021.
Aurora, a relatively fresh start-up founded in 2016 by former Tesla and Google engineers, will incorporate its self-driving technology into Hyundai vehicles over time, starting with custom-made models developed especially for tests in as yet unspecified pilot cities. The long-term goal is for Hyundai and Aurora to eventually commercialise the tech, with level 4 SAE autonomous cars on roads early next decade.
• Self-driving cars: everything you need to know
Level 4 vehicles, as defined by SAE, aren't completely autonomous. Cars at this level are said to feature 'high autonomy', meaning that while there are some roads that the vehicle won't be able to navigate alone, the driver can relinquish full control to the self-driving system in some scenarios, such as on motorways and highways, or when parking.
Hyundai says that the partnership is another step along the road towards fully autonomous driving. The South Korean manufacturer began testing autonomous technology on public roads back in 2015, after it was granted a licence to do so in Nevada, USA. The firm is also using the Ioniq as a test bed for autonomous technology, assessing the vehicle in urban environments.
Hyundai will showcase next-generation autonomous technology at the Consumer Electronics Show next week, with the reveal of the firm's as yet unnamed fuel cell SUV. Chris Urmson, CEO of Aurora, will appear alongside Hyundai executives as a speaker during the firm's keynote.
Should more car companies seek partnerships with tech start-ups to achieve autonomy? Tell us your thoughts in the comments.