Hyundai's N division considering hot electric Ioniq model
Hyundai's performance N division could continue aggressive product rollout with a Skoda Enyaq iV vRS rival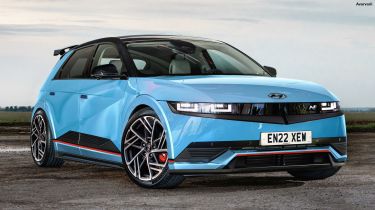 Hyundai's N division is considering the development of a high performance electric car based on a model from the new Ioniq sub-brand, according to the Korean manufacturer's head of technical development.
The N models launched for Europe so far - the i30 N in hatchback and fastback form, and the i20 N - have had conventional turbocharged petrol engines. The newly revealed Kona N follows the same trend, but now Hyundai management have suggested that N's focus will shift towards more sustainable, environmentally friendly offerings.
Hyundai's vice-president for product and strategy, Thomas Schemera, said, "We never stop thinking about expanding our product portfolio. Strategically we are moving full speed ahead with eco-friendly offerings. We have a crystal clear plan. One thing is for sure - eco-friendly vehicles are on our priority list, at the top."
When asked specifically if N would look to develop cars based on the Ioniq models, which use Hyundai's e-GMP modular electric platform, Schemera said, "Everybody knows that Hyundai's electric architecture has a lot of potential and shows a lot of flexibility. So this is an interesting question. I guess if you have a look at our strategy of the future, to offer more eco-friendly vehicles and moving ahead with our battery-electric concept and our fuel cell-electric concept, it seems to be realistic."
Albert Biermann, Hyundai's board member for technical development, added, "Let me ask one question in return. Could you imagine we were not working on it already?"
Our exclusive image shows how an N treatment could look if applied to the newly launched Ioniq 5, the first model in the new line-up to arrive. That car is a fairly large, 4.6metre-long crossover, though, so it's conceivable that Biermann's engineers are working on variants of more compact Ioniq vehicles. Hyundai Ioniq's head of design, Luc Donckerwolke, told Auto Express earlier this year, "We can reduce the wheelbase, so further models are possible - shorter or longer [than the Ioniq 5]. You will see more models coming."
Biermann suggested that the American-market Elantra could give N division a further model in Europe, if customer demand were sufficient. "We are developing an Elantra N," he said. "It participated already in the launch event of the Elantra in the United States. At this point it's not planned for Europe. But if you can create enough demand I would not rule out that it could be reconsidered. It could be an interesting next N vehicle for Europe and other markets."
Customer feedback could yet persuade Hyundai to offer the Kona N with a manual gearbox, Biermann also admitted. The car is being launched with an eight-speed dual-clutch automatic only, but the former BMW M division chief said, "The feedback we get back on the eight-speed dual-clutch is so fantastic. Recently I saw some comments saying that this Hyundai eight-speed DCT is better than the Hyundai manual transmission. That gave us the confidence to say on Kona N, we can try without the manual. If customer demand is higher than we are expecting then we can change this I guess; it's not such a big challenge from an engineering point of view."
Click here to read our first review of the all-electric Ioniq 5...