New all-in-one Hyundai Mocean subscription service launched for UK customers
Electrified Hyundai models can now be driven under subscription, with terms from three to 24 months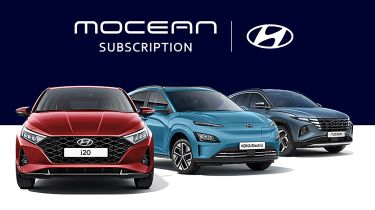 Hyundai has launched an all-in-one subscription service in the UK for electrified models, including fully electric cars.
The service is called Mocean. According to Hyundai UK managing director Ashley Andrew, Mocean is intended for customers seeking simplicity over the terms and conditions of a PCP or HP deal for a new car.
It launches in the Greater London area but will eventually be available to Hyundai customers in cities up and down the country. Plans under the Mocean service cost from £339 month depending on the length of contract and which car is chosen, and the package includes insurance, roadside assistance, road tax, and maintenance and repairs at Hyundai UK dealers.
Customers can take out a subscription for a period as short as three months or for up to two years, and they'll also be able to change their car and the terms of their subscription every six months, should they wish.
The process is handled online - the brand says customers can sign up and subscribe with just a few clicks. The subscription can be cancelled with a one-month notice period.
Hyundai promises that those who do sign up can have their car in just a matter of days, delivered to them or available for collection from a dealership.
The brand says that a range of models from superminis to SUVs is available. That implies that mild-hybrid cars are included, such as the latest Ford Fiesta rivalling i20 hatchback. Fully electric models, like the Kona Electric, are also available for subscription plans.
Do you think an all-in-one subscription service is a good idea? Let us know your thoughts in the comments section...