New Hyundai Tucson N to arrive with 340bhp
Our exclusive image previews the look of the new Hyundai Tucson N, which is set to rival the Cupra Ateca, Audi SQ5 and VW T-Roc R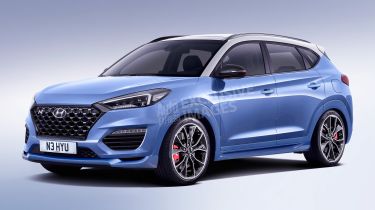 Hyundai's bid to infiltrate the world of high-performance models is under way and new in the product plan from the Korean firm will be a hot Tucson N SUV, Auto Express can confirm.
Set to arrive within the next two years, towards the end of the current model's lifecycle, and previewed in our exclusive image, it will rival the Cupra Ateca, Audi SQ5 and the forthcoming Volkswagen T-Roc R.
Insiders are remaining tight-lipped on final specs, but expect at least 340bhp from the Tucson N and a 0-62mph time below six seconds in order to be competitive against its rivals. Insiders told us that the firm is "not interested in making also-ran cars with N badges on them in whatever class they compete".
The Tucson will head Hyundai's N range until the arrival of what N engineers are merely describing as a "halo car" which will be a "brand-changer".
Engineers won't confirm which platform it will be based on yet, but our source told us: "We are going to take our time with this one – because when it appears it will blow everything else away in its sector."
We know the N Division has been working for a while on a development mule with four-wheel drive and a gearbox that's based on the i30 N's, but our source wouldn't confirm this is the halo car. They told Auto Express it's one option on the table, while a full EV based on an all- new platform is another consideration.
Before this happens, the next N car will be based on the i20 and will appear early in 2020. Expect it to have at least 250bhp and be front-wheel drive, with new electronic differential trickery. It will rival the likes of the Ford Fiesta ST and Volkswagen Polo GTI, something Hyundai insiders say they are "very confident" it will achieve.
Click here for our in-depth review of the Hyundai i30 N...