New battery layout needed for next electric Jaguar
Jaguar design boss hints at a bid for a pure-electric saloon or sports car, says new battery layout would be needed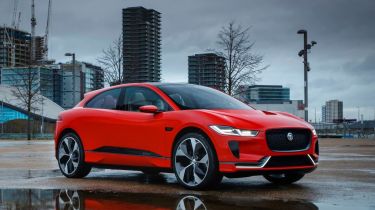 Jaguar is looking at "various battery configurations" as it aims to develop a sister vehicle to the pure-electric I-Pace that can have a lower seating position more akin to a sports car, or even a conventional saloon.
The British firm's first pure-electric car is due on sale before the end of next year. Engineers made a conscious decision to give it a more SUV-like shape because this brings a slightly higher roofline - which, in turn, allows the battery pack to be mounted under a raised floor.
However, Jaguar's Design Director Ian Callum has admitted that the company's desire to produce a lower EV is forcing its engineers to look at spreading the batteries out in lots of different locations around the vehicle - including at the very front and rear (instead of between the axles) and vertically.
"We know that we'll have to be flexible in how the battery packs are built up," Callum said. "They don't necessarily need to be a single slab in one area, as long as they're properly interconnected. So yes, we're looking at various configurations as we look beyond the I-Pace - particularly to help with the H-point [the height of the occupants' hips] in the rear seats, because that's really one of the defining areas."
Callum, who was speaking as the I-Pace received the Royal Automobile Club's Dewar Trophy for technical innovation, said he was keen to see whether some of Jaguar's rivals are able to bring a lower EV to market more quickly. "It'll be interesting to see what Porsche does [with Mission E]," he admitted. "Is there still a future for the 'low car' in a world of EVs? I'd like to think so."
Jaguar's development team has also reworked the I-Pace's cabin because there was too much rear legroom, Callum revealed. "Because of the bespoke platform and the way an electric vehicle can be packaged, we actually had too much space in the back of the car," he said. "So we revisited it and ended up moving the rear seat forwards. It gave a more realistic amount of space - which is still very generous - but opened up even more boot space."
What do you make of Jaguar's efforts to develop a pure-electric saloon or sports car? Let us know below!