New Jaguar Land Rover Ingenium turbo petrol engine revealed
JLR reveals details of all-new turbocharged four-cylinder petrol engine and innovative new automatic transmission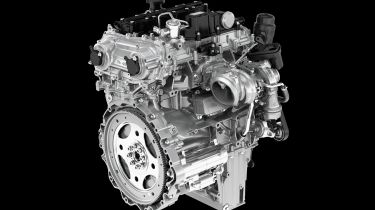 Jaguar Land Rover has revealed another expansion of its new 'Ingenium' engine family and this time it's a line-up of petrol engines that are on the way.
The new four-cylinder Ingenium petrol is now in production at JLR's state-of-the-art £1bn Engine Manufacturing Centre in Wolverhampton. The engine has been designed and engineered in the UK, too, and is said to be the most advanced the firm has ever produced.
Performance is said to have been improved by up to 25 per cent over the current Ford-sourced unit found in the Jaguar XE, thanks to a twin-scroll turbocharger, integrated exhaust manifold and electrohydraulic valvetrain. Expect the engine to be available in three states of tune, ranging from around 200 to around 300bhp.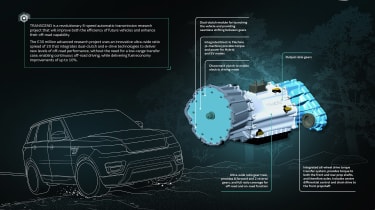 Fuel consumption is said to be reduced by up to 15 per cent, too. The units can be used in the Jaguar XE, XF and F-Pace, as well as Land Rover models such as the Range Rover Evoque and Discovery Sport. They will be available to order in at least one of these models from 2017.
At the same time, JLR is developing an Ingenium straight-six petrol to be used in higer spec models like the F-Type and Range Rover. That will maintain its 3.0-litre capacity, but may ditch supercharging for turbocharging.
Finally, the brand is also developing an innovative new automatic transmission. The £30m 'TRANSCEND' research project aims to produce a gearbox that is 20kg lighter than a normal eight-speed auto, with a ratio spread of more than double an existing gearbox. It allows a low-range gearbox to be integrated, improving off-road capability, yet could boost efficiency by nearly 10 per cent.
Read our top 10 best SUVs to buy now...