Jaguar F-Type vs rivals
Where does the F-Type fit in the high-performance drop-top market? We compare it to the Audi RS5 Cabrio and Porsche Boxster S to find out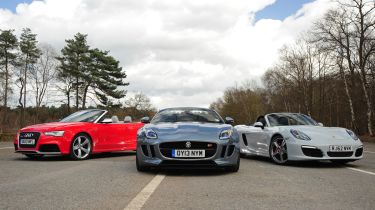 The Jaguar F-Type is a crucial car that has to succeed to ensure that the British car maker continues to be a force to be reckoned with.
Our first experience of the two-seater proved that it's worthy of Jaguar's heritage, and can sit alongside the Jaguar E-Type in the ranks of its open-top sports cars.
But where does the F-Type fit in the new car market? It's priced from £58,000-£80,000 - which places it in a bracket between the Porsche Boxster and Porsche 911 – and the front-engined, rear-wheel-drive two-seater has no direct rivals.
For this test, we've lined up one opponent that matches the mid-range F-Type S on price, the new Audi RS5 Cabriolet, and one that will challenge its performance and handling to the limit: the Porsche Boxster S.
Verdict
So how does the Jaguar F-Type fare? Well, it's a landmark car for Jaguar, as it's a thoroughly modern sports car with a nod to its heritage. Its mix of sharp handling, a comfortable ride and intoxicating exhaust note combine to produce a fantastic driving machine.
It certainly has the measure of the Audi RS5 Cabriolet. Of course, the big four-seater is a completely different type of car to the Jag, but it fails to deliver the sense of occasion you get from the F-Type. While the four-wheel-drive transmission has masses of grip, the big V8 under the bonnet sounds muted, and the chassis is set up for cruising rather than handling.
The battle between the F-Type and Boxster S is a lot closer. The Jaguar has a lot of appeal and is easy to drive quickly, but for pure driving enjoyment, the Porsche still has the edge. It responds to your slightest input, has virtually unbreakable grip, while the flat-six soundtrack is nearly as addictive as the Jag's V6 bark. You could easily match the F-Type's price by speccing up with options, but even if you go for a basic spec, you'll be buying one of the best sports cars on the market today at any price.