Jaguar XF R-Sport 2014 review
Jaguar XF R-Sport saloon gets some of XFR's sporty style
The Jaguar XF R-Sport is a nice move by Jaguar, aiming to give buyers a racy-looking alternative to Audi S line and BMW M Sport models. Thankfully, the brand has chosen not to fit firmer suspension so the XF's superb ride quality and refinement remain. Audi's A6 Ultra is still our favourite exec, but the XF is a worthy alternative.
Just as Audi has S line and BMW has M Sport, Jaguar has its R-Sport brand. It's aiming to bring a bit of the XFR's style to more sensible models – in this case the 2.2-litre diesel Jaguar XF.
The R-Sport changes are only visual, extending to a Sport front bumper, a rear spoiler and 'R' side sills. You get 17-inch alloys on this 161bhp car – the 197bhp version has 19-inch wheels – and inside is a subtle R-Sport badge on the steering wheel and some bespoke door sills.
On the road, this 2.2-litre diesel sounds slightly rough compared with the 2.0-litre TDI in the A6 Ultra, but it 
is at least well isolated from the cabin. And it allows for smooth acceleration, with a 0-62mph time of 10.5 seconds plus 57.7mpg economy. That's pretty good but still nowhere near as good as the Audi's 64.2mpg.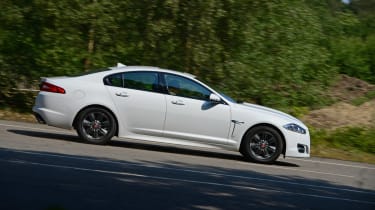 Thankfully, motorway refinement and comfort are superb, especially on these 17-inch wheels. As we've come to expect from the XF, it floats gently over bumps in the road and dulls a direct hit from a pothole to little more than a thud.
There haven't been any changes to the suspension or steering but the XF already feels like a sporty car to drive. The steering is quick to respond just off-centre and there's loads of grip. In terms of driver involvement a BMW 5 Series is marginally sharper but the XF R-Sport is still a lot of fun.
If it was down to us, though, we'd get the A6 Ultra, even though it costs around £400 more. The Audi's engine is one of the best four-cylinder diesels on the market and its interior is right up there, too. What's more, because it's cleaner it will actually work out as cheaper for fleet buyers, despite the higher asking price.