Mike Manley replaces Sergio Marchionne as boss of Fiat Chrysler
Briton Mike Manley steps up to CEO role due to worsening health of former FCA CEO following surgery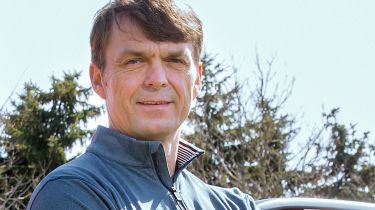 Briton Mike Manley has been appointed CEO of Fiat Chrysler Automobiles (FCA) with immediate effect, following the worsening health of Sergio Marchionne.
A statement from FCA said: "Fiat Chrysler Automobiles communicates with profound sorrow that during the course of this week unexpected complications arose while Mr. Marchionne was recovering from surgery and that these have worsened significantly in recent hours. As a consequence, Mr. Marchionne will be unable to return to work.
• The 10 greatest ever Ferraris
"The Board of Directors of FCA, meeting today, firstly expressed its closeness to Sergio Marchionne and his family and underlined the extraordinary contribution, both human and professional, that he has made to the Company in these years.
"The Board resolved to accelerate the CEO transition process that has been proceeding over the past months and named Mike Manley as CEO."
Mike Manley topped the Auto Express Brit List and was inducted into the Auto Express Hall of Fame in 2016. He's been heading the Jeep brand since 2009 and has also been running RAM and FCA in the Asia Pacific region.
Brought up in Bedfordshire, Manley's career in the car industry started as a graduate trainee with Swan National, also working with Renault and Peugeot dealers before moving to Lex Autosales.
That business was then sold to Daimler Chrysler where he stayed, all the way through to the purchase of the Chrysler businesses by Fiat. It was then that Manley was asked to take the reins at Jeep, since when he has overseen unprecedented growth in Jeep and RAM sales globally.
Marchionne was appointed CEO of Fiat in 2004 and orchestrated the shock takeover of Chrysler in 2009. Since then he's built FCA into one of the powerhouses of the global automotive industry, spinning Ferrari off as a separate company, which he also chaired.
Louis Camilleri, a Ferrari board member has been named CEO of the sports car maker, while John Elkann, grandson of Gianni Agnelli and chairman of FCA, has been named as chairman of Ferrari.
Check out the 2018 Auto Express Brit List and discover the Brits who are making waves in the global car industry. Click here...