Kia Sportage and Cee'd to get mild-hybrid tech
48V mild-hybrid tech heading for next-gen Kia Sportage and Cee'd in a bid to meet European emissions targets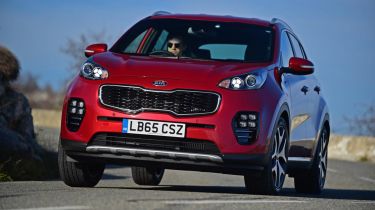 Kia will introduce 48V mild-hybrid technology to its current Sportage and the next-generation Cee'd as part of a move to meet tougher European emissions targets, the company's R&D boss has confirmed.
Speaking to Auto Express, Woong Chul Yang, vice chairman of Hyundai Motor Group's R&D division said: "For Europe there is demand for mild-hybrid 48-volt technology, so we are working on that for the Sportage and for medium sized SUVs, and we are working on that for the new Cee'd. This is to meet all those tough CO2 requirements."
Kia has also confirmed it will launch the Niro EV, a fully electric version of the Kia Niro later in 2018, with a quoted range of 238 miles. Yang said that though the Niro EV will come with a 64kWh battery, there is scope for it to feature a smaller battery.
"Having two battery outputs is something we are thinking about. Sometimes we put too much battery [capacity] into cars, we put heavier batteries that add weight. If people drive just 100 miles, then that kind of use doesn't need big batteries. People who are short range driving all the time, it makes sense to have smaller batteries."
Yang hinted that a 32kWh battery could be offered with the Niro EV. "This is a lot lighter so the range isn't cut by two," he said. "Because it's lighter, the range will not reduce by half."
The 32kWh battery could also make its way into a fully electric version of the Kia Stonic, according to the R&D boss: "A Stonic EV is being thought about. The Stonic has a very good fit for electrification."
Yang confirmed the South Korean manufacturer has joined a long list of companies now working on solid state batteries: "Solid state is something we're working on, an area all automotive companies are working on. But it is on the laboratory stage at the moment.
"Pretty much, the [current lithium-ion] battery technology is mature, and the next step, the next big leap is solid state."
The news follows Kia's announcement at the Las Vegas Consumer Electronics Show to release 16 electrified cars by 2025, including five full EVs, five hybrids, five plug-in hybrids and it's first hydrogen fuel cell vehicle by 2020.
What do you make of Kia's plans? Let us know in the comments!