More Kia GT electric performance models in the pipeline
The new EV6 GT sets the blueprint for the brand to roll-out more performance-focused electric cars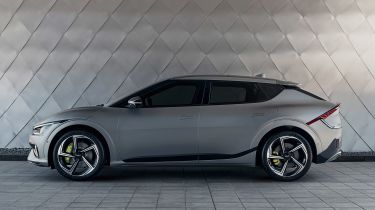 Kia will offer more performance-focused 'GT'-badged models in its dedicated line-up of electric cars, following the template set by the brand's recently revealed EV6 and EV6 GT, according to Kia Head of Global Brand and Customer Experience Division, Artur Martins.
"For us it was really important that this car delivers on the brand that we want to build and how we want to position Kia for the future," Martins told Auto Express.
"It is important for us that the new products that we're going to bring on the dedicated platform [Kia's E-GMP underpinnings] that we are consistent with the brand in terms of the elements that, together, will stand for the values of Kia. The GT is an important element of that."
Kia has carried over its sporty GT nameplate from its range of combustion-engined cars for the EV6 GT, with the tag previously being applied to its Stinger large hatchback and the Ceed five-door family car.
Martins outlined that Kia's idea is "to keep applying that strategy moving forward" hinting at the fact that more GT-badged models from Kia's dedicated EV line-up - which will be badged EV1 to EV9 - will appear in the future.
"It's important that we have these products and derivatives in the portfolio that have a little bit more character and that offer the consumer a real exciting experience with EVs that in the past were seen as boring cars. As you will see from the EV6 GT, they can be a very fun to drive product."
Martins also outlined that any future EV-badged models in Kia's line-up would have to meet the needs of customers, with his colleague - Kia Head of Global Design Centre, Karim Habib - backing up Martin's comments by adding that consistency in Kia's EV offering will be key.
"Some of the features and technologies you see [in the EV6] you will find in other vehicles. It starts a new generation of vehicles and there will be things that will be consistent in all vehicles."
Habib did follow up by saying that there will be obvious differences between Kia's dedicated EV models on the E-GMP platform in the future to "allow for a greater bandwidth," but as is the case with Kia's current GT-badged offerings, the products deliver performance in a slightly different way to cater for the needs of customers buying in that segment.
Kia's GT-badged EVs will probably follow a similar path, but it certainly seems as though more are on the way.
One thing Kia's EV customers will have to wait for, however, is a subscription sales model. Martins told us that while Kia is ramping up its online sales model on all cars, as forced to by the Covid-19 pandemic and consumers looking to buy cars online, it's at the exploratory phase for a subscription ownership model. Such a scheme would be a response to "customer demand for different ownership opportunities, not necessarily buying the cars, but that it's definitely part of our future plans."
Click here for our list of the fastest electric cars in the world...