Kia to go EV-only in 2035 and become carbon neutral by 2045
Kia has big eco plans that include ditching combustion power completely and, eventually, launching a new hydrogen fuel cell vehicle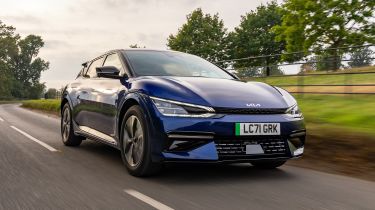 Kia has announced that it will only sell electric vehicles globally by 2040 and plans to become completely carbon neutral across its entire supply network and manufacturing infrastructure by 2045.
As part of this strategy – which includes being fully-electrified in Europe by 2035 – Kia has plans to introduce its first ever hydrogen fuel cell vehicle, which could launch within the next decade according to reports and will utilise next-generation fuel-cell technology in development by sister brand Hyundai.
The Hyundai Motor Group has already announced plans for a rapid expansion for the technology, with plans to launch a new hydrogen-powered sports can and a target of becoming the first manufacturer to have a hydrogen fuel cell option in every commercial vehicle sector by 2028. This technology would likely be used to underpin Kia's first hydrogen fuel cell model at a later date.
Kia has seven new electric vehicles planned for launch between now and 2027. The brand recently teased the next step in this strategy with the Concept EV9 – a seven-seat electric SUV prototype which will soon morph into a production model for the American, Chinese and Middle Eastern markets.
Kia also says that all of its production plants will be powered by renewable energy by 2040; the company's facility in Slovakia has already made the switch to green energy.
A new recycling process will see further old materials from scrapped cars used in new models. The brand says this will reduce the amount of virgin plastic it consumes. By 2030, Kia aims to increase the amount of recycled plastic it uses to 20 per cent of its total demand. 
The recycling process will also extend to the battery packs in its electric vehicles. The firm is consulting external companies about repurposing the cells into energy storage systems, with the scheme due to go online as early as next year.
Kia has already signed-off several initiatives that it says will help clean up the planet and realise its eco goals. The first project, called "Blue Carbon" will see the company help restore and preserve Korea's coastal wetlands, promoting the growth of carbon-absorbing seaweed and protecting the marine life that inhabits the area in the process.
The company is also working with the Ocean Cleanup, the non-profit organisation that's aiming to rid the planet's seas and waterways of plastic waste. Kia will then use the rubbish collected as a raw material in its vehicle production.
Hosung Song, President and CEO of Kia, said: "For us, it is not only about setting goals and reaching targets. It is about setting a vision that will inspire others to join the movement to benefit humanity and protect the environment. In line with our vision of becoming a sustainable mobility solutions provider, we commit to achieving carbon neutrality by 2045."
Click here to read our review of the new Kia EV6...