New Kia Ceed prices and specs: on sale now from £18,295
The new Kia Ceed has been unveiled, alongside full details and specs for the new VW Golf rival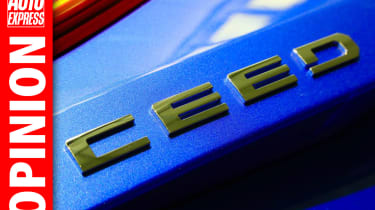 Opinion: Goodbye Kia cee'd, hello Kia Ceed
Someone, somewhere probably earned a lot of money telling Kia that it should stick an apostrophe before the 'd' in the name of its cee'd hatchback. Although 'earned' might be too strong a word.
In one fell swoop, Kia rubbished hundreds of years of punctuation tradition and made life slightly, but unnecessarily, more difficult for anyone who ever had to write or type the name of its family car. Next to the apostrophe, the lower case 'c' was a minor inconvenience but neither added to the cee'd's basic likability count.
That was 2006 and with the marketing guru or 'brandsmith' responsible having long since spent their sizeable fee on boutique hotels, limited edition trainers and avocados, Kia has seen sense. On the latest, all-new Kia Ceed, the apostrophe is gone and the C is a capital. Why? Speaking to Auto Express, Kia's marketing boss Arthur Martins said, it was because it makes the car easier to search for and find on Google!
That's the world we're living in folks; the marketing department giveth and the Search Engine Optimisation team taketh away. Whatever the thinking behind the move, we're almost convinced it's a good one. Almost, because having spent over a decade getting used to typing cee'd, we now need to forget everything we thought we knew.
So, if we've learned anything from the golden era of the Kia cee'd 5-door family hatchback and its rogue apostrophe, it's probably that motoring journalists love to complain about something. And that you should never, ever mention the pro_cee'd 3-door.
What do you think about the new Kia Ceed? And can it take on the very best in the hatchback sector? Let us know what you think below!