Jaguar Land Rover launches new car body development cycle
JLR has entered a two-year material testing programme that will hopefully produce harder-wearing body panels for its future cars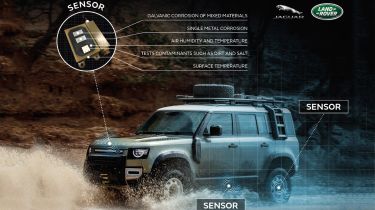 Jaguar Land Rover has entered a two-year research programme that will see the brand use aerospace technology to assist the development of its next-generation vehicles.
The British company's aims for the project are to produce bodyshells for its future models that are more resistant to corrosion and shock impacts. So far, the shortlist of materials includes a range of lightweight metal alloys and composite plastics – although JLR has yet to issue an itemised list of test substances.
To study the materials, JLR will build a sample of each into an aerospace-grade sensor which tests for humidity, surface temperature, corrosion, stress and contaminants such as dirt and salt. The sensor will then be strapped to a development vehicle and driven across 400,000km of North American wilderness to tease out any weaknesses.
The project also builds on Jaguar Land Rover's research into recycling aluminium waste from household appliances and scrap vehicles into its vehicle bodies. The firm's initial estimates suggest that the process could cut CO2 emissions from aluminium manufacturing by as much as 26 per cent over the current industry standard.
This recycling scheme is something that JLR is already implementing. Between September 2013 and March 2020, the company reprocessed around 360,000 tonnes of aluminium scrap back into its car body production.
JLR's latest material research programme forms part of its ongoing Destination Zero strategy – the company's vision for a future of motoring, with zero emissions, zero accidents and zero congestion. Several of the brand's recent technological projects have fallen under the same banner, including its new contactless infotainment system, augmented reality head-up display and shift towards recycled plastic interiors, made from repurposed ocean waste.
Click here to take a closer look at Jaguar's design future…