Next generation Jaguar Land Rover interiors to be made from recycled plastic waste
Econyl - the popular recycled nylon textile - is coming to future Jaguar Land Rover interiors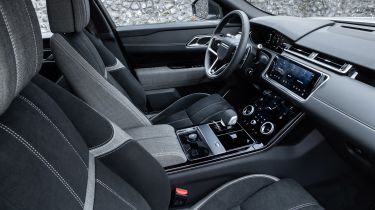 Jaguar Land Rover has announced that future models will use new materials created with recycled wasteland and ocean plastic, as part of a new company-wide sustainability drive.
The British company has teamed up with Italian fibre and polymer giant Aquaful, with next generation cars set to be offered with floor mats and interior trims using Econyl. It's a patented yarn produced using waste plastics including recycled industrial materials, fabric offcuts from clothing manufacturers, and dumped fishing nets.
The synthetic material is used widely in interior design and has been used in fashion and watchmaking, too. Its use in the automotive industry is already well established - BMW has used it in the all-electric i3 since 2016, Volvo turned to the material for the V90 Cross Country Ocean Race special edition in 2017, while much more recently the fibre is used in the floor mats of luxury vehicles like the brand new Mercedes S-Class limo and the all-electric Porsche Taycan.
JLR and Aquafil say that creating the reclaimed fibre over newly synthesised nylon is around 90 per cent less impactful on the environment. Byproducts, such as non-nylon, metallic materials or copper sulphate (found on discarded fishing nets) are removed and sent to alternative recycling industries.
JLR says that the resulting product is hardwearing and premium to the touch, but has not identified which specific parts of its next interiors will be trimmed in Econyl, aside from the floor mats.
Click here to take a closer look at Jaguar's design future...