New 2020 Land Rover Defender 90 on sale from £40,000
Three-door Land Rover Defender 90 will undercut the larger 110 by nearly £5,000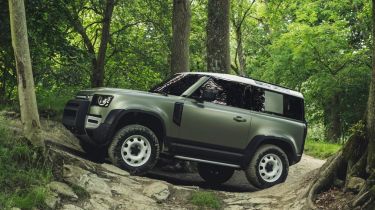 Land Rover has named its price for the three-door '90' version of the new Defender – and has started taking orders, too.
It's been confirmed that the new model will cost from £40,290 in the UK. That gives the reborn Land Rover's range an entry point almost £5,000 less than when the car went on sale in five-door 110 form in September.
That figure gets you a basic Defender 90 equipped with the same 197bhp D200 diesel engine that features in the lowliest 110. But the three-door is slightly lighter, so the entry-level 90 manages 0-60mph in 9.6 seconds (0.3 seconds faster than the longer 110). And while the cars have the same NEDC-equivalent CO2 emissions figure of 199g/km, the 90 scores marginally better on the tougher WLTP test, so it should be slightly more economical in the real world.
The 90's engine range also includes the D240 (a 237bhp diesel) and a pair of petrols, the 296bhp P300 and the 395bhp six-cylinder P400. The last of those engines, which is fitted with mild-hybrid technology, is comfortably the fastest Defender 90, with a 0-60mph time of 5.7 seconds. All cars feature an automatic transmission.
Land Rover believes the 90 could be a popular choice with urban buyers as an alternative to regular premium SUVs. The 90 loses the 110's seven-seat capability, but it will be offered with the option of a third seat up front, allowing five or six seats. With a spare wheel in place, it's 4,583mm long – so slightly shorter than Land Rover's own Discovery Sport, and only 20mm longer than the (five-seat) Audi Q3.
As with the larger 110, the 90 is being offered with a series of packs, badged Explorer, Adventure, Country and Urban. These focus on everything from more extreme off-road ruggedness and protection, to styling and extras.
Land Rover says 1.21 million vehicles have been specced on the Defender's configurator since last September. Within that number, more than half of prospective buyers have chosen one of the Accessory Packs and the most popular addition, the Urban Pack, has featured in 35 per cent of configurations, the manufacturer claims.
A plug-in hybrid version of the Defender is expected to arrive before the end of this year, and Land Rover will also make both the 90 and 110 models available as work-focused commercial editions starting from around £35,000.
Click here to check out how we'd spec our Land Rover Defender...