New hydrogen-powered Land Rover Defender prototype in development
The Land Rover Defender FCEV prototype will be assessed for off-road and long-range zero-emission motoring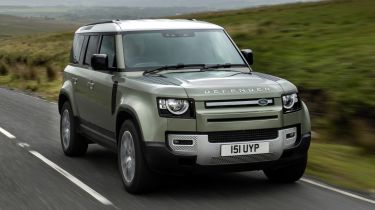 Land Rover has confirmed that it will develop a hydrogen fuel cell prototype Defender, due to be put through its paces on UK roads later in 2021.
Called Project Zeus, it's a part of Jaguar Land Rover's Reimagine strategy, which aims to achieve net zero carbon emissions across all JLR supply chains, manufacturing and products by 2039.
The crux of the Reimagine strategy hinges on the large-scale rollout of battery-electric vehicles, but the firm did include hydrogen as a footnote to the company's reinvention, declaring in February that hydrogen fuel cell prototype vehicles would begin testing later in the year.
We now know that the first hydrogen prototype is based on the new Defender. Dubbed the Defender FCEV, the powertrain incorporates a fuel cell stack, electric drive units, a large battery (taking on recouped energy from braking and providing reserve/boost power for the electric motors) and a high-pressure tank for storing the hydrogen.
For now, the Defender FCEV remains a prototype, but it potentially points to the availability of a hydrogen-powered version of the brand's off-roader in the near future. Rival Ineos has all but confirmed a hydrogen version of its Grenadier is in the works - a car that apes the old Defender in its styling and aims to fill the void that the new Defender has left - having signed a working agreement with Hyundai, which makes the fuel cell Nexo SUV.
No specifications, such as performance and range, have been revealed and Land Rover has not revealed any images of the Defender FCEV prototype yet either. The prototype will be used to assess fuel consumption and the off-road and towing capabilities of vehicles with hydrogen power.
JLR sees hydrogen technology as ideal for larger vehicles with long-range requirements that need to be driven in both very hot and very cold conditions - more than a nod to the Defender's go-anywhere approach.
It would also give the Defender line-up a zero emissions option alongside the P400e badged plug-in hybrid revealed in September 2020.
The firm is partnering with a number of specialists in the field, including Marelli Automotive Systems and the UK Battery Industrialisation Centre (UKBIC).
Ralph Clague, Head of Hydrogen and Fuel Cells for Jaguar Land Rover, said: "We know hydrogen has a role to play in the future powertrain mix across the whole transport industry, and alongside battery electric vehicles, it offers another zero tailpipe emission solution for the specific capabilities and requirements of Jaguar Land Rover's world class line-up of vehicles."
Click here to read more about hydrogen fuel cell cars...