"New Defender is Land Rover's goose that laid the golden egg"
Editor-in-chief Steve Fowler thinks the new Land Rover Defender is an impressive example of British engineering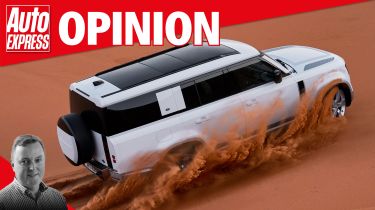 Of all the success stories that have rolled out of Land Rover's HQ in recent years, the new Defender has to be the greatest of the lot. It's not only a fantastic piece of industrial design and a hugely impressive example of British engineering, early signs are that the plant in Slovakia is building them brilliantly, too.
So it's no surprise that – especially in times of parts shortages – Land Rover cannot build them fast enough. The queue for new Defenders goes around the block a few times, while Land Rover and its dealers are rubbing their hands with glee due to healthy margins on the car.
We've no doubt that the latest version, the three-row Defender 130, will be a sales success, too. Although I have to admit to spluttering when a colleague told me it's 100mm longer than a long-wheelbase Range Rover, can cost well over £100,000 and weighs 2.5 tonnes. It's a big car in terms of size and financial impact.
We were always told that there would be a Defender family, and there are even more offspring on their way. JLR's Special Vehicle Operations division hasn't launched a Defender yet, so expect hot SVR and extreme off-road SVX versions. Then there's the much-rumoured pick-up, which could be another money-spinner, especially in the truck-crazy US.
Whether the Defender 130 is just a bit too big for UK tastes is yet to be seen (don't forget you can already buy the Defender 110 with seven seats over three rows). But as someone who's lucky enough to have one on his drive at the moment, I can report that it is every bit as brilliant to live with as you might expect – it's a very clever car.
That queue means buying one is the biggest problem – but does anything else out there have the Defender's appeal? Not really. Which is why the used market for them has also gone crazy. You'll struggle to find one for less than it cost new. The only sad thing about the Defender's success? Anyone remember the Discovery? No, me neither.
Click here for our list of the best large SUVs on sale right now...