Land Rover Discovery XXV review
New Land Rover Discovery XXV celebrates 25 years of the Discovery with extra premium features
The additional kit and upgraded trim of the Land Rover Discovery XXV are welcome, but some parts of the Discovery are feeling a bit dated next to Land Rover's newer models. However there is still no doubting this car's off-road prowess, and on the road it's a quick and comfortable family car.
It's been 25 years since the first Land Rover Discovery went on sale, and to help celebrate this milestone the manufacturer has given it a bit of a spruce up with the special edition XXV model.
The special edition gets a number of trim upgrades and little touches to push it further in to the premium sphere.
Based on the range-topping HSE Luxury model, added kit includes black grille surrounds and mirror caps along with black trim on the grille and front wings. There are silver full-length roof rails, stainless steel tread plate on the rear bumper and a number of XXV badges dotted around.
With around 1,500 to be made worldwide it could be difficult to get your hands on an XXV, but bar the added design touches the car is very much the same as the standard Discovery – a car that has been on sale for a long time now, but various updates have helped paper over the cracks in its walls.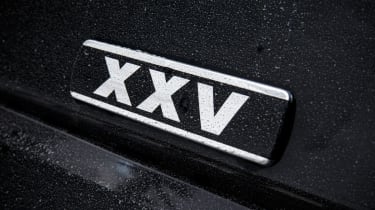 That means you get a 3.0-litre SDV6 diesel engine producing 252bhp paired with a smooth eight-speed automatic gearbox. It's impressively quick, too, for a car that weighs almost two-and-a-half tones, covering the 0-62mph sprint in just 8.8 seconds.
The commanding ride height means it's easy to judge the car's bulk, particularly useful when driving through narrow city streets. However that bulk makes cornering a bit ungainly compared to the latest Range Rover models.
While the Discovery market is still predominantly families looking for a practical seven-seater road car, it's most impressive when dealing with off-road hazards.
Our test included deep water wading and steep inclines and declines, and the Land Rover proved that it is still at the top of its game in this situation.
The Hill Descent Control works impeccably, so you don't have be concerned about your speed while descending, while the wade-aid tells you how much deeper the car can go before you hit problems.