Range Rover Sport SVR sets Nurburgring SUV lap record
Jaguar Land Rover's Special Vehicle Operations team sets Nurburgring lap record for a production SUV with its new Range Rover Sport SVR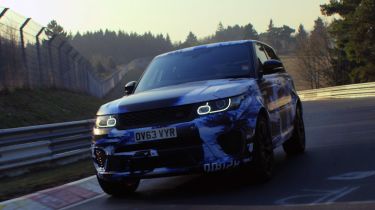 The Range Rover Sport SVR has set a new record for the fastest lap of the Nurburgring by a production SUV, completing the famous 12.9-mile Nordschleife circuit in 8 minutes 14 seconds.
Recently unveiled at the Goodwood Festival of Speed and set to arrive in showrooms early next year, the latest addition to the Range Rover family is the work of Jaguar Land Rover's new Special Vehicle Operations team.
• Fastest Nurburgring lap times
Changes over the Range Rover Sport include a revised version of the flagship 5.0-litre supercharged V8 engine, now tuned to deliver an additional 40bhp. Total power output is therefore up to 543bhp, so we're expecting the newcomer to see off 0-62mph in 4.8 seconds. The SVR also features a twin-speed transfer case, providing a choice of high and low gear ratios, and carries over the Sport's 850mm wading depth.
According to a statement from Land Rover, the Nurburgring was chosen when honing SVO's take on the Range Rover Sport because "the undulating circuit's challenging layout represents the ultimate test for high performance vehicles."
"The Nurburgring is a benchmark for vehicle development and testing, and cars become stronger, more durable and faster over its 13 miles and 70-plus corners," adds Mike Cross, Land Rover's chief engineer for vehicle integrity. "We wanted to see whether an SUV could behave like a performance car in this challenging environment."
Land Rover will build the Range Rover Sport SVR variant alongside the standard car, with a starting price of just under £100,000 expected. It's understood a hot Evoque is up next in the Special Vehicles Operations model plan, which should arrive later in 2015 and feature a 2.0-litre turbo producing roughly 300bhp.
Is this an amazing feat of engineering by Land Rover? Is the Nurburgring lap time of a two-tonne SUV really relevant? Let us know your thoughts in the comments section below...