'Lexus is finally becoming comfortable in its own skin'
As Lexus moves towards electrification and targets leading brands, interesting times lie ahead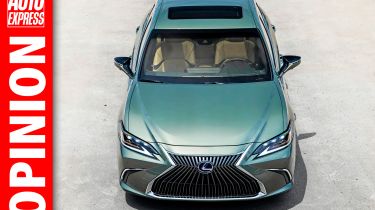 These are interesting times at Lexus. For years, Toyota's luxury brand has been an interesting left-field alternative to the established German premium manufacturers and Jaguar Land Rover, but no more than that.
It nailed customer service from the start, of course, and our annual Driver Power poll indicates that Lexus hasn't lost its touch in that area. But the company's attempts to capture BMW and Jaguar customers by offering its interpretation of 'driver involvement' have, by and large, fallen flat.
There are some signs, though, that Lexus is finally becoming comfortable in its own skin.
The latest ES is not the last word in driver excitement. But at some point during its development, Lexus's engineers were clearly given the brief to chase after the principles of not the latest BMW 5 Series but rather the likes of the Mercedes E-Class and Volvo S90 – models that focus on refinement and comfort instead of B-road alacrity. And they've succeeded.
The final piece in the jigsaw for Lexus could be the seemingly relentless sway away from diesel engines. More of the firm's rivals are moving towards electrification, but Lexus has bags of experience in not only developing hybrid tech, but also explaining it and selling it to customers.
It isn't likely to overtake BMW, Audi and Mercedes in European markets any time soon – not least because Lexus sees discounting as a dirty word when it's an everyday reality, especially in fleet sales. But it's fascinating to see how instead of scrabbling desperately to get closer to buyer trends, Lexus is suddenly able to allow them to come in its direction.
Read our review of the latest Lexus RX L…