New Maserati MC20 Cielo PrimaSerie Limited Edition revealed
Just 65 examples of the PrimaSerie Maserati MC20 Cielo will be built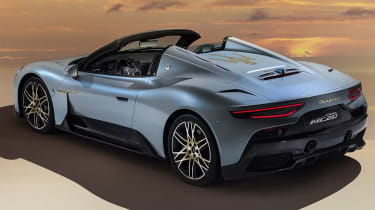 1/4
Maserati has only just unveiled the drop-top Cielo version of its MC20 supercar, but we already have an ultra-limited edition version of it - called the PrimaSerie. 
The exterior has a few subtle changes over the regular car. The PrimaSerie receives the Aquamarina launch colour of the Cielo and the 20-inch forged wheels, while Maserati's Trident badges are finished in matte white gold and have the PrimaSerie logo lasered on.
Moving to the interior, the Cielo PrimaSerie offers 'Ice Alcantara' leather seats with a new backing and Aquamarina stitching. The folding glass panel roof featuring Polymer-Dispersed Liquid Crystal (PDLC) technology remains, meaning you can have a clear or opaque roof at the touch of a button. 
The MC20 Cielo's powertrain is also unchanged. A 3.0-litre twin-turbo 'Nettuno' V6 delivers 621bhp and 730Nm of torque, resulting in the same 198mph top speed and 0-62mph time of just over three seconds. The suspension, like the standard drop-top Cielo, has been firmed up to accommodate the extra 65kg kerb weight over the coupe. 
Pricing hasn't been revealed but given the exclusivity of the PrimaSerie, we expect it to cost significantly more than the Cielo's estimated £215,000 starting figure.
Check out the latest Maserati news and reviews here