Mazda 3 review (2004-2008)
The Mazda 3 doesn't really stand out compared to cheaper, newer rivals.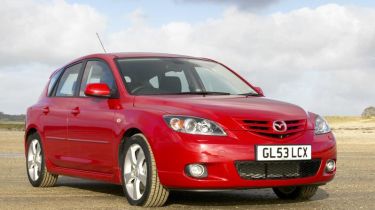 Driving The Mazda 3, which shares its underpinnings with the Ford Focus, corners precisely. Body control is good, while the steering is well weighted and offers impressive feel. Over twisting roads, the 3 is surprisingly good fun, with high levels of grip and agile, predictable handling. Turn-in is incisive and body control taut. The ride isn't as accomplished though, and potholes are rather noticeable in the 3 - it tends to fidget over smaller bumps. This, combined with rather vocal engines, harms the Japanese hatch's refinement. Petrol engines are Mazda-built 1.6-litre and 2.0-litre units, but while the 1.6-litre diesel is a Ford-sourced powerplant, the 2.0-litre diesel is also a Mazda design. We tested the smaller diesel, and found it quite punchy low down. The trouble is it runs out of breath easily, and in town you have to keep the turbo on the boil for a quick getaway. Mazda also offers a sporty MPS edition, with a 256bhp 2.0-litre turbo petrol engine (it's the most powerful hot hatch in its class) and a racy limited-slip differential.
Marketplace Since its launch in 2003, the 3 has undergone a number of minor facelifts, the most recent of which occurred in spring 2008. This tidied up the trim line, improved equipment levels and introduced a better-value Takura variant, with front and rear spoilers plus two-tone interior trim. Meanwhile Sport trim became available with the 1.6-litre petrol engine as well as the larger 2.0-litre. There are some nice touches - the black surround of the tail-light clusters, for instance – but the back end looks a little fussy. In fact, we think the 3 looks far better as a four-door saloon than as a five-door hatch. In short, it comes across as rather bland and dated. The mainstay of the range is the five-door hatch; there is no three-door, though there is that pretty four-door, which is unusual for this sector nowadays. Key rivals include the Toyota Auris, Kia cee'd, Ford Focus, Vauxhall Astra and Renault Megane.
Owning Dark and dreary, the 3's cabin lacks flair, while the ambience isn't all that airy. The design is inoffensive but that's simply not good enough these days. In fact, the only thing that stands out are the flashing red lights that trigger when you turn the stereo on. Put simply, there's little to hold your attention. While build quality is good for the most part, out test car's glovebox had a habit of popping open when cornering. And even more disappointing are the materials. For instance, the thin-rimmed steering wheel is not a good first contact point, while dash plastics are cheap and shiny. Thankfully, storage is decent. The driving position is good, while there's plenty of seat and steering wheel adjustment. The front seats offer good lateral support and those in the rear provide plenty of room. Pricing is reasonable, retained values OK and fuel economy of diesel engines, if not petrols, is decent.
Engines, performance and drive
0
MPG, CO2 and Running Costs
0
Interior, design and technology
0
Practicality, comfort and boot space
0
Next Steps
Which Is Best
Cheapest
Name

2.0 e-Skyactiv G MHEV SE-L Lux 5dr

Gearbox type

Manual

Price

£23,020
Most Economical
Name

2.0 e-Skyactiv X MHEV [186] SE-L Lux 5dr

Gearbox type

Manual

Price

£24,920
Fastest
Name

2.0 e-Skyactiv X MHEV [186] SE-L Lux 5dr

Gearbox type

Manual

Price

£24,920