'McLaren is already a great British success story'
While some British car makers are struggling, Steve Fowler thinks McLaren's success is nothing short of miraculous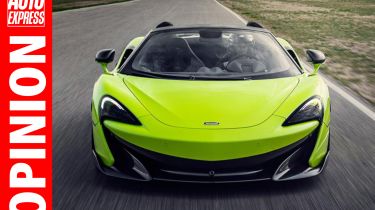 The McLaren name is so evocative here in the UK, it comes as a surprise that it's hardly known at all in other parts of the world – including the US.
That's not only down to F1's invisibility in the States, but the fact that McLaren Automotive is still one of the world's newest car companies, only formed in 2010.
So it's nothing short of miraculous to see how far it's come in such a short time, producing incredible cars like the 600LT Spider and the 720S Spider (you'll have to wait until next week for that).
While some British car makers are struggling, McLaren is going from strength to strength. As others are shedding workers, McLaren is busy recruiting.
Last year, the Woking-based firm recorded global sales of 4,806 cars – up a whopping 44 per cent. The aim is to get to 6,000 cars by 2024, while the entire range will be 100 per cent electrified by 2025 as part of the Track 25 plan.
Of course, there are dangers of growing too fast – as Jaguar Land Rover has proven. However, McLaren is doing it with a more considered (and easier-to-understand) line-up of sports cars; we're constantly reminded that there will be no SUV (selfishly, I think that's a bit of a shame).
In the US, which accounts for nearly 40 per cent of McLaren sales, its well-heeled customers are younger than elsewhere and are excited that McLaren is the new kid on the block, taking on Ferrari and Lamborghini. And as somebody who has run a McLaren in the UK, I know that its cars are greeted over here with a warmth that owners of other supercars don't always experience.
Of course, not everything is perfect, as is often the case with fledgling car companies. Build quality still leaves a little to be desired, while the current models are saddled with an infotainment system that's clunky to use and unreliable. However, the future is very bright for McLaren, which is shaping up to be one of the greatest British automotive success stories of the 21st century.
Read all about Steve's time with the McLaren 570GT right here...