New Mercedes app lets drivers pay for parking from their cars
Mercedes owners can now pay for public parking bays using an infotainment system app with the system already live in Germany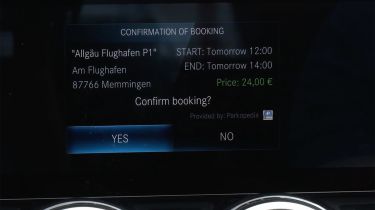 A new system that allows Mercedes owners to pay for parking via their cars' on-board infotainment system has launched. 
The system, developed by parking firms Parkopedia and EasyPark, automatically detects when a car parks in an EasyPark-enabled public parking bay, recording the location and start time.
• Apple CarPlay: review, user guide and everything you need to know 
Drivers need only then confirm the start of their parking session via a prompt on their cars' infotainment session, saving the hassle of fiddling with smartphone parking apps, cards, coins or telephone helplines. On the driver returning to their car and starting it, an on-screen message will prompt them to end their parking session.
Payments are linked to drivers' MercedesPay accounts, which will also issue electronic receipts. The system is live at 200 locations in Germany now, and is rolling out across other European locations.
This isn't the first time car makers have teamed up with other companies to allow in-car payments. In 2017, Jaguar and Shell joined forces to create an app allowing drivers to pay for fuel through their cars' infotainment systems; this system disincentivised drivers to make purchases from forecourt shops, however, which may explain why it was not widely adopted by other fuel retailers. No comparable issue exists for the new parking app, though.
Commenting on the parking system's launch, EasyPark's chief executive, Johan Birgersson, said: "Bringing the latest technology into cars to address the main parking pain points, the time drivers have to spend on finding and paying for parking, this innovative feature allows for a smooth and easy user experience that saves time and effort for users."
Do you think this is a good idea? Let us know your thoughts in the comments below...