Mercedes-AMG future electric tech to emerge soon, says boss
Chief Technology Officer Markus Schafer says there's a story to tell when it comes to electric performance - and we could hear about it in the next few weeks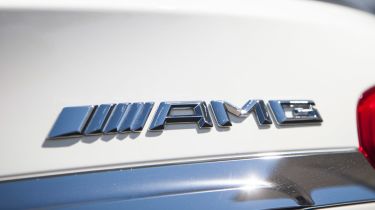 Following the news that Mercedes' Vision EQXX concept has achieved a 1,008km (626-mile) journey on one charge while still having 15 per cent of its batter capacity left, the brand's Chief Technology Officer Markus Schafer has said that the next chapter in the story is "to cover the more sporty side".
Speaking on a technology debrief following the EQXX's range run, Schafer outlined that "My team are so excited, they have tons of ideas for what's next. If EQXX is just covering the efficiency side of e-mobility and taking it to the extreme, I would like to cover another side, which is the more sporty side. 
"You know that we have our sub-brands like AMG, and they are also turning electric. We would like to also tell the story of what's happening on the EV sports side of the house in the next couple of years, so I would say stay tuned, there will be some news in the next few weeks of what we're doing on the power/EV/sporty side."
Mercedes has already dipped its toe into the pool of hot EVs, with its EQS 53 and EQE 53 AMG models. It confirmed last year that pure-electric performance models would launch, with 43 and 53-branded models set to feature.
Key to Merc's future performance EVs will be axial flux e-motors following its buyout of UK firm Yasa that has worked on the technology.
"Our collaboration with Yasa in England in Oxford is a very important part of our sports powertrain and performance powertrain of the future. We have different e-motor architectures - the radial motor for the Mercedes side, and the super compact and super powerful axial motor for the performance side of the house. This is enough to build another vision to display what will happen on the AMG side in the next few years."
The EQXX was a product of a collaboration between Mercedes and its British-based F1 team, and this link could be further strengthened for future products from its AMG division.
"We're using it [the link] now. Over the last two years it was such a close cooperation that never happened before. We became Formula E champions and developed our e-motors in-house in the UK. The electrification side of F1 is increasing and in the next generation 2025/26 there's much more focus on the F1 side on systems thinking, inverters, e-motors and battery technology, so there's so much carryover - the technology and the spirit.
"It's combining this spirit and the turnover of ideas, a brutal force of improvement, which is really needed and a good add-on for our series production cars, combining both together. It's a unique asset we have, we have two world champions in our house here, so why shouldn't we work together?"
Are you excited at the prospect of Mercedes-AMG's switch to electric power? Let us know in the comments...