Four cars, 2,000bhp, four minutes: Mercedes-AMG track test video
We put four of the latest Mercedes-AMG models to the test on track at Goodwood in just four minutes
We took a trip to Goodwood, the UK's fastest flowing track, to test out some seriously hot Mercedes-AMG models and see if we could review them all in only four minutes. 
First up was the Mercedes C 63 S Estate. A C-Class is a great choice for a family with a dog, but how does it do as a performance car? Well, with 504bhp and 650Nm of torque it can reach 62mph in a pretty impressive 4.1 seconds.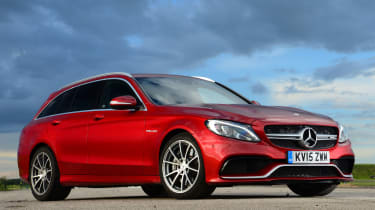 The C-Class might look like a hefty estate but AMG has managed to transform it into a complete hooligan with all that power going to the rear wheels. You'd better get your kids to hold on tight if you've got one of these as a daily runabout. What else did you expect though really, when the C 63 has pinched the 4.0-litre V8 twin turbo engine from the AMG GT S? 
The GT S has power and torque figures to match the C 63 but 0-62mph takes just 3.8 seconds and it has a whopping top speed of 193 miles an hour. You could look at this car all day, it's an absolute stunner. Press the big start button and the engine fires into life. This thing changes gear in a heartbeat and absoloutely flies round the track.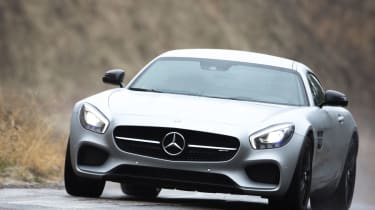 Next was the CLS 63 AMG S Shooting Brake with 577bhp and 900Nm of Torque. Its top speed of 143mph and 0-62mph time of 4.1 seconds are pretty tasty too.
It's spacious, comfortable and well built. You get the high-class executive feel you expect from a Mercedes-Benz, with the options such as black ash trimmed leather seats and ambient lighting. And if you thought the C 63 was big, the CLS is a step up the scale again.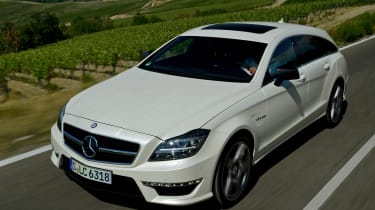 Well, they do say bigger is better, and this is certainly bigger. Even though the CLS 63 is one of the heaviest cars here, its still got some incredible pace! And it just throws itself into the corners too.
The S63 AMG Coupe has the same power and same torque as the CLS 63 AMG S shooting brake, and the 0-62mph times and top speeds aren't that different either. And that's because they both use that monstrous V8 5.5-litre engine.
The big difference is the weight though. Mercedes might have made this lighter than the previous performance S-Class model, but masses of top spec kit on board means it's still heavier than the other cars we tested.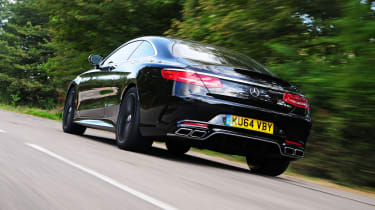 It costs an eyewatering £125,000, but for that you get an interior of complete luxury. Don't think Mercedes has turned down performance in any way though.
So there you go, that's four hot Mercs, with a combined 2,158bhp which would cost almost £360,000. But when it comes to weight, handling and power they set a hard target for rivals to live up to.   
Subscribe to our YouTube channel for more great videos...