New Mercedes C-Class Estate 2014 review
New Mercedes C-Class Estate gets more space, a better interior and lower emissions
As with the Saloon, the Mercedes C-Class Estate is a luxurious, comfortable and stylish choice. In many ways it's better than a BMW 3 Series Touring – particular when it comes to motorway ride comfort and cabin quality – but it's just not quite as sharp in the bends. So it really comes down to what you want from you car: those looking for the best-handling estate should stick with the BMW, those after the most relaxing should stick with the Mercedes.
Despite being introduced in 2007, Mercedes still managed to shift 50,000 examples of the outgoing Mercedes C-Class Estate last year. So how do you improve on a formula that's still clearly working well?
In the case of the all-new C-Class Estate it involves more style, more space, lower emissions and more luxury. In our experience that's something that's worked well on the Saloon version and to our eyes, this Estate is actually even better looking.
This AMG Line car, on optional 19-inch wheels – 18s are standard – and with a sporty bodykit looks low, wide and fierce. The raked boot and narrow wraparound taillights give it an eye-catching design that we'd say is the most attractive in its class.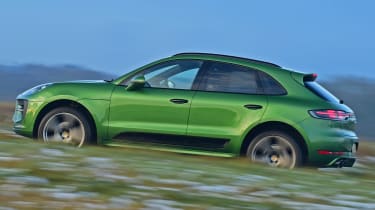 But underneath the good-looking body is a seriously practical car. With the rear seats up there's a 490-litre boot, while folding the seats down (in 40:20:40 configuration for the first time) frees up 1,510 litres – that's best in class. The seats fold at the touch of a button in the boot and a powered tailgate comes as standard. You can get a hands-free function as an option, too.
The boot is nicely trimmed in luxurious carpet as you'd expect in a car with a cabin as stunning as the C-Class Estate's. It's understated, hi-tech, easy-to-use and high quality. Elements of the flagship S-Class can be seen everywhere, giving this car the feel of a much more expensive model. Our AMG Line model is particularly impressive because of its stitched faux leather dashboard.
We tried a C250 BlueTEC, powered by a 2.1-litre diesel producing 201bhp. Paired up to a seven-speed auto, it provides impressively effortless acceleration. Officially, 0-62mph takes 6.9 seconds but based on the in-gear shove it actually feels a lot faster.
With fuel economy of 62.8mpg – though we only managed 45mpg on our 100-mile route – and CO2 emissions of 117g/km it'll be cheap to run for private and fleet buyers alike, too.
The problem, as ever with this 2.1-litre engine, is refinement. It's fine if you're cruising around, allowing the gearbox to short shift for you. When it's not under strain it just sounds slightly rough but on full throttle – or in Sport mode, where it holds on to gears until high revs – it's annoyingly noisy.
The good news is that on the motorway you won't hear it at all, and while there's a bit of wind and road noise the Estate is feels right at home on the motorway. And that's where you plan to do most of your driving, it's probably worth upgrading to the £895 air suspension.
On fast, undulating roads it makes the C-Class as comfortable as limousines costing twice the money. Rough tarmac seems marble smooth and bumps cause no more than a gentle, cushioned bobbing. At lower speeds, though, it gets caught out by potholes and sharp ridges – you can hear a loud thud from the suspension and feel a jolt in the cabin.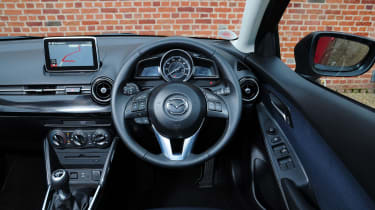 Left in Comfort mode, the soft suspension will cause the Estate to lean in to fast bends, where a 3 Series would corner a little flatter. The Mercedes' steering is nice and quick, giving it a sporty edge but there's not enough feedback or composure to choose it over a 3 Series if you want the best handling car in this class. A car on standard springs is better, but still no match for the BMW.
With a price of £36,040 for our C250 BlueTEC AMG Line, the Mercedes will set you back £385 less than a BMW 325d Touring M Sport, with similar performance. There's mot much in it, price-wise then so it comes down to what matters most to you. For the most fun, we'd recommend the BMW but for luxury and style, the C-Class Estate is our go-to choice.