Mercedes CLS Shooting Brake vs Jaguar XF Sportbrake
The Jaguar XF Sportbrake mixes style with estate practicality. But will it be upstaged by the stunning CLS Shooting Brake?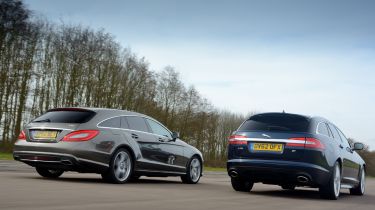 Take a look at the current crop of large estate cars, and it's clear buyers no longer have to sacrifice style and desirability in the name of practicality and luggage space.
For instance, the bold new Mercedes CLS Shooting Brake is one of the most distinctive cars on the road, yet it has room for five and a vast 590-litre boot. We've already been impressed by the powerful 350 CDI V6 diesel model, which scored a comfortable victory over the Audi A7.
Now it's the turn of the more affordable 250 CDI, which promises the same stunning looks, but with better economy and emissions. We test it in £52,400 AMG Sport form.
However, the CLS isn't the only upmarket estate that aims to combine catwalk style with high-street running costs. The Jaguar XF Sportbrake boasts elegant lines, a roomy interior and a frugal four-cylinder diesel engine.
And while it can't quite rival the Mercedes for exclusivity, the Jaguar hits back with its generous list of standard equipment and very attractive £44,695 price tag.
So which one of our head-turning diesel estates will carry off the honours in this stylish space race?
Verdict
Both of the contenders in this test offer style and practicality by the bucketload. But which of our fashionable estate cars is the better bet?
To our eyes, the rakish Mercedes has greater visual appeal, while its interior looks and feels more up-to-date. It also boasts a more refined engine, a sharper driving experience and a bigger boot.
If this decision was purely down to desirability, then the CLS would be the runaway winner. Yet it's hard to ignore the Merc's huge price tag, particularly in AMG Sport form. Even if you go for the less well equipped SE version, you'll still have to fork out an extra £4,695 over the lavishly equipped XF Portfolio. Choose a Jaguar in Sport or Luxury trim, and the price gap increases to nearly £10,000.
As a result, the XF takes victory here by the very narrowest of margins. It's not quite as capable as the Mercedes, its cabin is starting to look a little dated and its diesel engine sounds gruff when you work it hard, but its handsome lines and classy, upmarket image help offset these issues.
Better still, it represents great value for money compared to the CLS – it's cheaper to buy, it'll cost company buyers less to run and it's more efficient. In fact, you could even go for the smoother V6 diesel version and still save money over the stylish Merc.