Mercedes CLS Shooting Brake review
Mercedes has created yet another niche with the CLS Shooting Brake – an estate that thinks it's a four-door coupe
Mercedes is the king of conjuring up niches from nowhere. It did it with the CLS four-door coupe back in 2004, and now the CLS Shooting Brake is performing a similar trick. Rivals include the BMW 5 Series Touring and Jaguar XF Sportbrake, but in reality there's nothing quite like it on the market. Beneath the swooping bodywork is a boot that's larger than a 5 Series Touring's, but smaller than its distant relative, the cheaper E-Class Estate.
All models get an electric tailgate, leather trim and air suspension as standard, while cherry wood decking for the boot floor is available as an option. Diesel ngine choices range from the efficient four-cylinder 250 CDI to the six-cylinder 350 CD, while there's also a CLS 400 V6 petrol and the inevitable hot-rod AMG V8s.
With a smooth, cultured burble, we've always felt the 3.0-litre engine was a perfect companion for the CLS, and now in the updated model it has a worthy partner in crime – the new 9G-Tronic nine-speed automatic.
The box is only available in the 350, as other versions of the CLS stick with seven-speeders despite the mid-life refresh. Adding two more ratios (and much smoother shifts) doesn't improve acceleration as the engine is detuned slightly (by 7bhp), but this car will still rival a hot hatch with its 6.5-second 0-62mph sprint time.
More reviews for CLS-Class Shooting Brake
Our choice: CLS 350 CDI Shooting Brake
Engines, performance and drive
Compared to the BMW 6 Series Gran Coupe, the CLS coupe places more of a premium on refinement and effortless progress than driving dynamics, and it's a similar story with the Shooting Brake.
Flip the metal paddles fixed to the back of the new steering wheel (identical to the one that'll be used in Mercedes' new AMG GT coupe), and the CLS feels really sharp thanks to its instant throttle response. Not surprisingly for an 1,845kg estate with a heavy V6 in the nose, the 350 CDI model is a fraction slower to turn into corners than the cheaper four-cylinder CLS 250, but that's a small price to pay for such an accomplished and engaging package.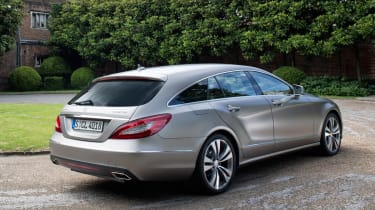 That said, most of the time the Shooting Brake is happy to mooch along being a relaxing, cosseting cruiser. Suspension that is supple on regular versions, though dialling up the stiffness in the AMG Line models predicatbly undoes some of the composure. Thanks to its super-slippery body and lots of soundproofing, the cabin remains whisper-quiet.
MPG, CO2 and Running Costs
If you want low running costs, then the 250 CDI is undoubtedly the model to go for. With stop-start, 201bhp and - more importantly - 500Nm of torque, it mixes lively performance with excellent economy claims and CO2 emissions of 53.3mpg and 139g/km respectively.
The 350 CDI is up by 5.2mpg to 52.3mpg and CO2 emissions fall 18g/km to 142g/km in the latest facelifted model.
Although a tank of fuel will last a long time in either of the two diesels, expect maintenance costs and insurance premiums to be above average. To buy it will set you back more than the CLS saloon, and although extra standard equipment includes easy-fold rear seats, rear air suspension and an automatic tailgate, it's still a significant price leap over its four-door cousin.
On the plus, the huge desirability of the Mercedes CLS means that residuals are competitive, with all diesel versions retaining at least 45 percent of their value after three years. The CLS 400 with its lusty twin-turbo petrol V6 is faster than the diesel versions on paper, but with a best mpg score below 40mpg, it'll be the footnote on UK CLS sales charts.
Interior, design and technology
If style isn't high on your agenda, you're unlikely to see the point in the CLS Shooting Brake – an E-Class Estate costs less and offers more boot space. But meet it in the flesh and it's hard not to be captivated by the Shooting Brake's unique silhouette. The long bonnet, stretched roofline and elongated side window graphic give it plenty of presence and make it look larger than it actually is. In fact, it's only 16mm longer, identical in width and 3mm lower than the CLS coupe. The interior is identical to the standard CLS - apart from the long, narrow boot of course - which can be optionally decked out in cherry wood for the ultimate style statement. It'll cost you around £4,000, though, and the standard carpeted boot is far more practical. However the rest of the interior is suitably luxurious and all models come very highly equipped as standard, with leather seat trim, Bluetooth and climate control featuring on all models. It's a pity however that the adaptive 'Multibeam LED' headlights, which individually switch 24 LEDs on and off to maintain main beam without dazzling other drivers, is an option acorss the range, even on high-spec CLSs.
Practicality, comfort and boot space
The CLS Shooting Brake is a five-seater family car that'll swallow up to 1,550 litres of luggage; with the seats in place, the boot's bigger than an Audi A6 Avant's or BMW 5 Series Touring's. Combining style with practicality is the Shooting Brake's reason for being, which is why hidden under that enormous arcing roofline is a 590-litre boot.
The gargantuan E-Class Estate, with its 1,950-litre load bay and more generous rear seat space, remains the better choice for buyers wanting a family car to double as a removals van, but the CLS Shooting Brake is a far more desirable product with its alluring mix of driver satisfaction, space and unique looks. It's a class act, and exactly the sort of car Mercedes should (and does) excel at.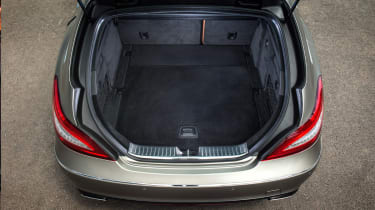 An automatic tailgate is fitted as standard to all models, which swings open to reveal a long but narrow load area. Deep pile carpet and rubber strips are fitted as standard on the boot floor, but bespoke storage rails that stow beneath the false boot floor can be fitted as an optional extra - although they should really be fitted as standard to a car with a minimum price tag of around £50,000.
As you'd expect, the CLS Shooting Brake comes laden with Mercedes' usual suite of cutting-edge technology and safety systems. These include nine airbags, brake assist, tiredness detection, blind spot assist, lane keep assist and the list goes on. Euro NCAP hasn't tested it yet, but with that sort of armoury you can expect a full five-star rating. Mercedes build quality has improved dramatically of late, so you can expect the CLS Shooting Brake to be dependable for the length of the ownership experience. Mercedes finished eighth overall in the 2012 Driver Power reliability survey - that's six and seven places ahead of BMW and Audi respectively.