Mercedes CLS Shooting Brake vs rivals
We pitch the new Mercedes CLS Shooting Brake against its rivals, the Audi A7 Sportback and BMW 5 Series Touring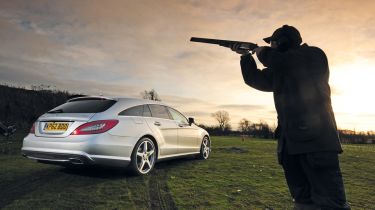 The new Mercedes CLS Shooting Brake is taking aim at its premium rivals with a mix of stunning styling, powerful engines and a classy, high-quality interior.
A more practical version of the CLS four-door coupe has been on the cards for some time, with the Shooting Brake first seen as a concept at the Beijing Motor Show back in 2010. But is there really space in Mercedes' current range for this niche within a niche?
The newcomer sits halfway between luxurious fastbacks like the Audi A7 and proper estates such as the BMW 5 Series Touring. It costs more than either model, but promises to mix the style and presence of the Audi with the extra carrying capacity of the BMW. We put the Shooting Brake head-to-head with each model in separate tests to see which comes out on top.
To keep things fair, we chose the flagship diesel versions of each car, and in the sportiest spec available for maximum visual impact. So is the new Shooting Brake on target to notch up a pair of road test wins on its maiden outing? Or will it be shot down by its competitors?
Verdict
We could hardly have found a tougher pair of rivals for the CLS Shooting Brake to take on in its first test, but it came very close to beating both.
It had the upper hand over the A7, thanks to its more arresting looks and greater versatility. Yes, the CLS is a little more expensive to buy than its rival and can't quite match it for performance, but it serves up an even more compelling mixture of desirability and versatility.
The face-off between the 535d Touring and the CLS was even closer. However, this was a battle of estate cars, and in this respect the Mercedes has to give best to the roomy 5 Series. What the BMW loses in style it more than makes up for with its pace, space and price.
Mercedes CLS Shooting Brake vs Audi A7
Winner Mercedes CLS Shooting Brake ★★★★
Greater carrying capacity and a striking design help the Mercedes to a narrow victory here. It's more expensive to buy than the A7, but this is a small price to pay for a car that oozes upmarket desirability. It's also more engaging to drive.
2nd Audi A7 ★★★★
Vast reserves of power from the new bi-turbo engine and 4WD grip help the A7 offer stonking straight-line performance. But it can't match the space and head-turning appeal of its new rival.
Mercedes CLS Shooting Brake vs BMW 5 Series Touring
Winner BMW 5 Series Touring ★★★★
In this test of practicality, the well thought-out BMW has a decisive advantage. It's a classy and refined choice, and although it doesn't feel quite as special as the CLS Shooting Brake, it's beautifully finished and brilliant to drive.
2nd Mercedes CLS Shooting Brake ★★★★
Alluring design inside and out and a refined engine almost justify the large price premium the CLS commands over its exec rival. Yet it's nowhere near as practical as the BMW, nor as sharp to drive.