Mercedes G-Class vs Twisted Defender
The Mercedes G-Class goes head-to-head with the Land Rover Defender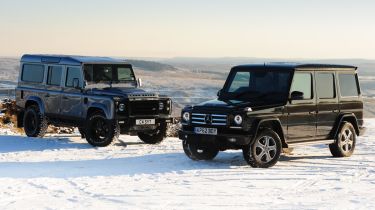 The Mercedes G-Class, or G-Wagen as it was called until 1994, isn't a normal Merc. Its name is short for Gelandewagen (cross-country vehicle) and it was launched in 1979 with the sole aim of delivering rugged off-road ability.
Yet despite its boxy shape and body-on-frame construction, it has inexplicably morphed into a luxury vehicle. Today, you're as likely to see a G-Class outside a casino in Monaco as you are parked in an African army camp.
However, it's not the only workhorse loved across the globe. The Land Rover Defender is a master in its field, and Yorkshire-based Twisted builds bespoke luxury versions that give the Mercedes a run for its money. We put the two cars head-to-head on a snowy cross-country trek.
Verdict
Compared to modern 4x4s, both of the cars in this test are hopelessly outdated. But they have to be judged in context: what are considered flaws by the majority are revered as interesting character traits by fans of cars like the G-Class and Defender.
We still wear wind-up watches, sit in front of open fires and use fountain pens in the knowledge that they've been surpassed by superior technology, but that doesn't make them pointless. It's the same with the G-Class and Defender – but if you want to be different, surely it's better to go the whole way?
The Mercedes is brought into line with the rest of the brand's range by its modern interior, engine and gearbox, but it's cramped inside and the on-road dynamics are poor. Meanwhile, the Land Rover's handling is still agricultural by modern standards, but Twisted has heavily re-engineered it under the skin. And the luxury interior means you're getting a pretty special one-off vehicle for your money.
Our test model was powered by the standard 2.2-litre four-cylinder engine, but you can get closer to the G350's performance by upgrading to a 3.2-litre five-cylinder. However, that's only the start of the tailor-made options on offer, and it's this level of personalisation that gives the distinctive Twisted Defender victory over the more off-the-peg G-Class.