New 2017 Mercedes S-Class plug-in hybrid to get wireless charging
Next generation Mercedes S-Class plug-in hybrid flagship to get clever new charging system, while diesel PHEV will join it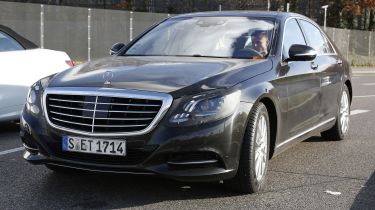 The facelifted Mercedes-Benz S-Class plug-in hybrid will feature high tech wireless charging, according to Jochen Strenkert, Mercedes' man responsible for hybrid powertrains. 
Speaking to Auto Express before the Geneva Motor Show, Strenkert revealed that Mercedes is working in collaboration with arch rival BMW to develop the new tech, sharing the high cost of the new system. 
We'll see the new S-Class plug-in hybrid in summer 2017, while the car will feature Mercedes' latest third generation hybrid powertrain, boasting a bigger battery pack.
"We already have a working prototype," Strenkert revealed, adding that "battery capacity is predicted to double every five years, so the next S-Class plug-in will also have an increased range."
The current S500e boasts a 20-mile all-electric range, so the next car will nearly double this. Despite the lack of a wired connection to top up the improved battery pack, Strenkert also pointed out that the wireless system will offer recharge times comparable to cable charging.
The wirelessly charged S-Class will play a big part in Mercedes' hybrid product offensive, with a range of 10 PHEVs by 2017 supported by a new 500m euro battery factory in Germany, announced in Geneva.
It'll be joined by a new plug-in version of the latest 2.0-litre turbodiesel in the firm's new E-Class, while Strenkert also highlighted that "all of Mercedes' new four and six-cylinder engines have been designed with hybrid powertrains in mind."
Get all the news from the 2016 Geneva Motor show here...