Mercedes SLS AMG Final Edition review
Limited-edition Mercedes SLS AMG Final Edition takes flagship supercar out with a bang
The SLS has always been a very special sports car – one that oozes character and desirability. Amazingly, that's still the case as it bows out with this well rounded and scintillating Final Edition, even if many of the changes are purely cosmetic. With just 350 examples being made, it's more or less guaranteed as a future classic, especially considering just how great this V8 engine is.
While AMG is tweaking the SL63, it's also saying goodbye to another of its convertibles: the Mercedes SLS Roadster. With the SLS family set to be replaced by the smaller AMG GT in September, the SLS AMG GT Final Edition is one last hurrah for the retro-inspired supercar.
Limited to just 350 models – offered in coupe and roadster bodystyles – it's mechanically identical to the standard SLS GT. So you've got the same 583bhp 6.2-litre V8, boasting the distinct burble of a hand-built AMG engine.
Even four years on from its debut, age hasn't dulled the SLS, with the lively straight-line perfomance made all the more impressive by the double-clutch gearbox's ultra-quick shifts. There's a fantastic blip on every downshift, too, and with the roof down, this is one of the best-sounding cars around.
It takes a while to get used to placing the SLS on the road with the long bonnet, but fast steering and sharp turn-in ensure it never feels cumbersome.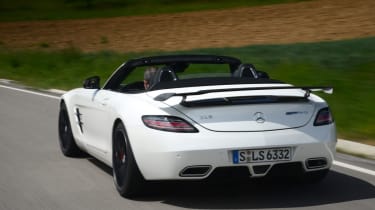 At road speeds there's no hint of understeer and with a mighty 650Nm of torque on offer, the SLS squats and squirms as you floor the throttle and the vast rear tyres work with the stability control to get all the power on to the road. It still can't match the Ferrari 458 or Porsche 911 Turbo for handling, but by blending muscle car brawn with a honed chassis, it's sure-footed.
Inside, the driving position is a little cramped and visibility restricted. But you still get the sense of being in something special, particularly as this Final Edition SLS comes with diamond pattern leather and a 'Final Edition' plaque on the transmission tunnel.
It doesn't sound like much for the extra £22,515 this car costs over the old SLS AMG GT Roadster, but when you're behind the wheel of one of only 350 of these models, listening to one of the greatest V8s ever built, it seems like money well spent.
The SLS Final Edition's rear wing helps to reduce lift, while the carbon bonnet features a vent which helps to cool the engine. Forged wheels are fitted as standard and there's the option to specify track-developed Dunlop Sport Maxx Cup tyres.