Mercedes SLS Roadster vs Porsche 911
It's time to bring out the big guns, as the Mercedes SLS AMG Roadster meets the Porsche 911 Turbo Cabrio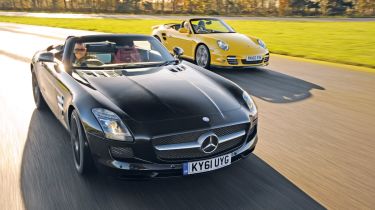 With its thundering V8 engine and jaw- dropping looks, the SLS AMG is the glamorous poster boy of Mercedes' line-up. And now it's arrived in Roadster form.
The headline-grabbing gullwing doors are gone, replaced by a fabric roof and the added wow factor of open-air motoring. It's priced at an eye-watering £176,895, which is £8,500 more than the coupe.
The two models were developed side-by-side, so the Roadster is definitely not an afterthought. AMG claims that its engineers paid particular attention to strengthening the chassis and ensuring the quality of the fast-folding hood in order to deliver impressive refinement and uncompromised handling.
Yet if you want a cabriolet that combines sensational performance with handling prowess, there's already a strong candidate on the market: the Porsche 911 Turbo.
It's a comparative bargain next to the SLS, yet it has the pace to match. But does it have the desirability of the Mercedes? We found out...
Verdict
The SLS has lost none of its wow factor in Roadster form. It's arguably even more spine-tingling than the coupe, as the superbly engineered hood folds in seconds, allowing you to better appreciate the mighty V8's exhaust note. More importantly, the chassis rigidity is superb and the dynamics haven't been compromised in the transition to drop-top. However, while the 911 Turbo lacks the Mercedes' opulence, it's faster and more agile.
Picking a winner comes down to your priorities: the SLS is the ultimate boulevard cruiser, while the Porsche is more engaging on a twisty road. The 911 also costs less – but in this market, financial considerations are outweighed by the need to have the most desirable machine. The SLS Roadster is a car of the moment, as well as being a supremely fast and engaging roadster, so it takes the win.
1. Mercedes SLS AMG Roadster Few cars at any price attract as much attention and make as big a statement as the Mercedes SLS AMG Roadster. It looks great, sounds amazing and is beautifully engineered in every area. It isn't as fast as the Porsche 911 Turbo, but it's a seriously accomplished convertible performance car all the same.
2. Porsche 911 turbo cabriolet PDK With its tiny rear seats and nose boot the Porsche is a surprisingly practical choice, but it's the incredible performance and magnetic grip that set it apart. However, the 911 Turbo Cabriolet still trails the Mercedes for ultimate desirability.