Mercedes SL63 AMG review
The Mercedes SL63 AMG now gets even more power for exactly the same price
More relevant than the extra power – there was plenty of that already – is the fact that AMG has introduced a limited-slip diff and other upgrades without making buyers pay any more. The Mercedes SL63 AMG is still an expensive car – especially when the 911 Cabriolet is so good – but it leads the way for buyers wanting thumping performance and great long-distance comfort.
Mercedes' AMG tuning division is never shy about the amount of power its cars produce. So it should come as no surprise that out of the blue, the SL63 AMG now delivers 577bhp – an increase of 47bhp – and features a limited-slip differential as standard.
Firing up the SL63's newly tuned 5.5-litre V8, you're instantly reassured by the fantastic bark from the quad exhausts – the SL63 sounds as good as ever.
Mercedes' power gains – plus the extra 100Nm of torque, taking the total to 900Nm – are noticeable, with the SL's thunderous acceleration turned up a notch. Where it used to cover 0-62mph in 4.3 seconds, now it'll do it in 4.1 seconds.
That makes the twin-turbo V12-powered SL65 AMG look even more redundant – it's only one-tenth-of-a-second quicker to 62mph than the SL63, yet it costs more than £50,000 extra.
Mercedes previously offered the limited-slip diff as part of the AMG Performance Pack, which cost buyers an extra £12,350. Now it's included along with the power boost, although the SL63 AMG's price remains the same as before at £112,510.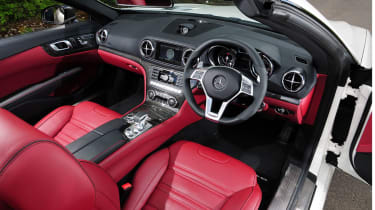 The Mercedes SL63 is better value than the SL65, and the diff was always a must-have for serious drivers anyway. It makes the SL less prone to understeer and more predictable when accelerating hard out of a bend.
Our car was also fitted with carbon-ceramic brakes (a £10,205 extra), which not only offer enough stopping power to catapult you against your seatbelt, but also prove to be seriously resistant to fade. For track work, they're essential.
Even with the differential and the brakes, the SL63 isn't the car you'd pick if you're after the best handling model in this class. The Porsche 911 Carrera S Cabriolet is the better choice for that and it starts from about £20,000 less.
The Mercedes SL63 comes with a bespoke AMG gear selector as well as a host of buttons that allow drivers to tweak settings for the powertrain and suspension. However, the seven-inch infotainment system intergrated into the dash is controlled by a small dial and compared with the smartphone-style system on the new C Class, it feels a bit outdated.
However, the SL63 AMG still has plenty going for it; the cabin is fantastic – both in terms of design and build quality – and the ride comfort and refinement are better than anything else in this market.