Swindon Powertrain announces its all-electric Classic Mini
Revealed at the London Classic Car Show, the electric Classic Mini has a claimed range of 125 miles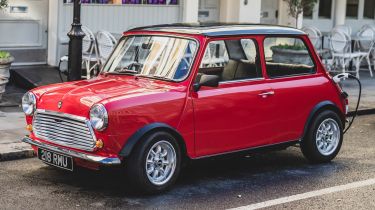 The electric conversion specialist, Swindon Powertrain, has revealed its all-electric Classic Mini. Revealed today at the London Classic Car Show, prices for the Swind E Classic Mini start from an eye-watering £79,000.
To create an electric Classic Mini, Swindon Powertrain start by stripping out the car's original A-Series engine, gearbox and fuel system. These are replaced with a 110bhp electric motor, a 24kWh battery pack and a charging socket in place of the fuel filler-cap.
The new drivetrain adds 80kg to Mini's weight, taking its kerbside figure to 720kg. Despite this increase, Swindon Powertrain claims its electric Mini's performance is reasonable, with a 0–60mph time of 9.2 seconds and a top speed of 80mph.
According to the firm, it'll be more practical than the original Mini, too; the original fuel tank is no longer required so boot space has increased to 200 litres. However, range may be an issue, as the conversion only allows a maximum range of 125 miles.
To complement the new all-electric drivetrain, Swindon Powertrain has also upgraded the original Mini's specification, adding an all-new suspension and braking system, a range of USB ports, underfloor heating, heated leather seats and a heated front and rear windscreen. Buyers can also choose from a range of six standard colours.
Optional extras include electric front windows, central locking, electric power steering, air-conditioning, a full-length electrically-operated sliding fabric roof and a modern infotainment system with support for Apple CarPlay and Android Auto.
Available to order now, production will be limited to just 100 units. Each model comes with an unlimited mileage one-year warranty, an MOT and, to combat the Classic Mini's tendency to dissolve in wet weather, contemporary corrosion protection.
What are your thoughts of Swindon Powertrain's all-electric Classic Mini? Let us know in the comments section below…