MINI tops list of brands with best residual car values
New study shows that the MINI is the top car brand when it comes to residual car values in the UK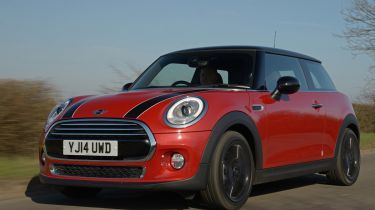 MINIs are the best cars at holding on to their value, while models made by Chrysler are the worst, Auto Express can exclusively reveal.
Figures analysed by pricing expert Glass's found cars from Chrysler dropped an average 26.6 per cent every year. They were closely followed by those from another US maker, Chevrolet, with an annual depreciation figure of just 26.3 per cent.
Meanwhile, MINI models lost just 16.4 per cent of their average value annually. In second place was Land Rover, which saw its models fall in value by an average of just 17 per cent per year.
To ensure the values were truly comparable, Glass's analysed each model at four "milestone" ages (one, three, five and seven years). MINI – which sells cars in a class with traditionally strong residuals – was helped by its desirable image. A strong brand also aided Land Rovers' resistance to depreciation, as did the increasing refinement of luxury off-roaders in general, plus improved fuel efficiency.
Glass's blamed the poor performance by the US manufacturers on a number of things, including their public perception. It put Chrysler's poor peformance down to a disjointed model line-up, containing a mixture of large, inefficient saloons and smaller cars, such as the Ypsilon, that haven't sold well.
At the supermini and hatchback ends of the market, Glass's found that Volkswagen was the best performing manufacturer. Its Polo and Golf were found to have lost just 16.3 and 17.8 per cent of their values respectively each year. Despite its desirable name, Jaguar placed in the bottom 10.
| | |
| --- | --- |
| Manufacturer | Annual avg depreciation |
| MINI | 16.40% |
| Land Rover | 17.00% |
| Toyota | 17.50% |
| Honda | 17.90% |
| Volkswagen | 18.30% |
| Smart | 18.60% |
| Jeep | 18.80% |
| Audi | 19.50% |
| SEAT | 19.60% |
| Skoda | 20.30% |
| Nissan | 20.30% |
| Mercedes | 20.60% |
| Kia | 20.80% |
| Suzuki | 21.00% |
| Mitsubishi | 21.30% |
| BMW | 21.50% |
| Mazda | 21.50% |
| Ford | 21.80% |
| Lexus | 22.10% |
| Subaru | 22.30% |
| Fiat | 22.30% |
| Volvo | 22.40% |
| Citroen | 22.50% |
| Hyundai | 23.20% |
| Jaguar | 23.20% |
| Peugeot | 23.20% |
| Vauxhall | 23.50% |
| SsangYong | 23.50% |
| Perodua | 24.60% |
| Renault | 24.70% |
| Alfa Romeo | 24.80% |
| Proton | 26.10% |
| Chevrolet | 26.30% |
| Chrysler | 26.60% |