'Costs may drop, but buyers' expectations don't'
Just because premium brands can offer cheap finance deals, it doesn't mean that they can fob buyers off with poor customer service, says Deputy editor John McIlroy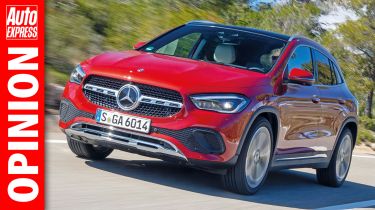 It might not seem it, but this week's Top Story verdict on the latest Mercedes GLA is quite significant. Frankly, we didn't rate the first GLA that highly at all, with its pseudo-SUV styling, cramped cabin, iffy plastics and average driving dynamics. And yet it sold in spades, not least because Mercedes UK 'worked the numbers' to make it very affordable on finance. "A real Merc for £250 a month, you say? Where do I sign?"
As you'll discover in the review, the latest generation of GLA deals with at least a few of its predecessor's issues. It's not necessarily much more spacious, but if you're buying this car as an alternative to, say, an Audi TT (as a surprisingly large number of people are) then it is now a model that we're able to recommend.
Key to this has been the approach Mercedes has taken with its small-car interiors, because while the GLA continues to get a cabin lifted pretty much straight from the A-Class, that's no longer an issue. The high-quality materials and tech on board are right up there with the best in the class and, while GLA owners may not be enjoying the best driving experience on the planet, they'll be able to sit in the driver's seat and tell themselves that life is pretty decent. And isn't that a major part of what owning a Merc should be about?
There is a fly in the ointment though, as Mercedes has finished in the bottom five of this year's Driver Power Manufacturer Satisfaction Survey. 
Its lowly position – and the fact that arch rival BMW is just one place above it – illustrate that while buyers are very happy to sign up for temptingly cheap lease deals from these premium brands, their expectations of the customer experience – that's everything from general reliability to dealer service – don't come down in line with the monthly payments. It's a tough message for brands like Mercedes, but the Driver Power stats don't lie. 
Do you agree with John? Let us know your thoughts in the comments below...