New Skoda smartphone app listens to your engine to pinpoint faults
Skoda's new diagnostic tool simply compares recordings of engine notes to accurately find problems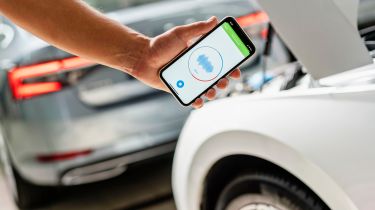 Skoda has completed trials of a new smartphone app that it believes could make life much easier for technicians at Skoda dealerships and service centres across Europe. 
Called the Skoda Sound Analyser, the app has been developed in-house by Skoda and is a simple diagnostics tool that warns of potential faults in Skoda cars by simply listening to the engine running. 
Skoda says the system is so sensitive it can hear even the slightest irregularity in the idling of the engine, and can suggest a range of services and fixes on the spot. 
The app records the sound of the engine and compares it with a set of control recordings of healthy Skodas. It can spot discrepancies in the sound signals, and uses an algorithm to suggest the best course of action to a technician. It converts the audio file into a spectrogram - a visual depiction of the acoustic signals - and compares them with the control set for deviations in the spectrogram pattern.  
The system has an accuracy of "over 90 per cent," according to Skoda, and it doesn't work on just engine issues. Apparently, the Sound Analyser app can also bring to the attention faults in the steering system, the gearbox and even the air conditioning compressor. The brand says more is to come, too. 
Trails of the app have been running since June 2019 across a range of 14 European markets, and a total of 245 Skoda dealers and service centres have taken part in the pilot. 
Stanislav Pekař, Skoda's Head of After Sales said: "Sound Analyser is a prime example of the new opportunities digitalisation at ŠKODA can create, even in terms of after sales. We will continue to consistently use artificial intelligence technologies to offer our customers an even more personalised service, thus enhancing the customer experience even further."
Check out the best new cars coming out in 2021 here...