Audi A1 and Audi Q2 won't get follow-up models
The brand's two smallest vehicles will soon be removed from its line-up, as Audi shifts its focus to larger, more premium vehicles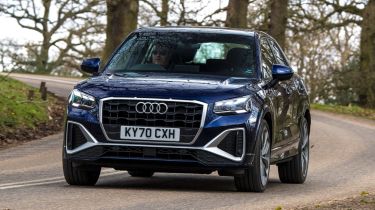 The Audi A1 city car and Q2 crossover will be axed from Audi's line-up at the end of their current life-cycles. In an official statement, the brand said that it plans to direct its efforts away from small cars and throw more resources at its larger cars and electrification.
The official statement reads: "[The current Q2] is here to stay for some time to come. We're talking a good few years, here. We can, however, confirm that there will be no direct successor to the Audi Q2 when it is phased out in a few years time."Audi is definitively positioning itself as a premium brand within the Group. As such, it is limiting its model range downward while expanding upward. The systematic electrification strategy will also play a key role here. From 2026, Audi will only launch new all-electric models."
While we've known the A1 was on thin ice since February last year, the death of the Q2 comes as more of a surprise. In an interview last year, Audi's CEO Markus Duesmann told Auto Express that the compact SUV might take the place of the A1 in the brand's line-up, saying: "We will certainly offer the Q2 – that might be the new entry level for us."
Either way, Audi's latest attitude towards reducing the number of small cars in its line-up is broadly the same – the strategy is just a little more aggressive than originally anticipated. 
Audi's main reason for the reshuffle is to direct more cash towards developing better electric cars. Development of the company's combustion engines will be affected by the same strategy, forming part of the firm's relentless pursuit of becoming an EV-only brand by 2033. 
Audi has already confirmed that its last newly developed combustion-engined car will hit the market in 2026. After that, there'll be no more innovation for petrol power and Audi will throw its full weight behind the development of its electric powertrains and battery packs.
"We have to cut back," said Duesmann. "We don't want to add the same portfolio electrically and we do make purpose-built electric cars because we can offer more functionality in purpose-built electric cars. So that means we certainly cut back our combustion-engined car portfolio in the next ten years – we have to and we will."
However, Duesmann confirmed that some of the mainstays of the current Audi line-up would survive the cull and go on to become fully electric cars. "You will be able to buy an A6 kind of car with a battery electric drivetrain," he told us. "We will have models available in these core segments where we have our main volume – they will all be 'XY' e-tron."
Now click here to read our in-depth review of the Audi A1...