New Fiat 500 owners rewarded with cryptocurrency for efficient driving
Drivers of the new Fiat 500 will receive KiriCoin cryptocurrency by perfecting their sustainable driving style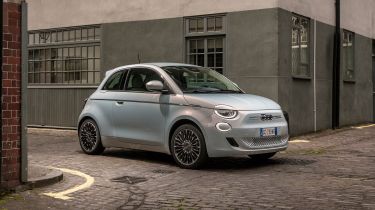 Fiat has launched a new e-Mobility initiative that will see drivers of its new 500 rewarded with cryptocurrency the more efficiently they drive.
Known as KiriCoins, these rewards can then be spent by owners on web exchanges accepting the token, while the most efficient drivers will also receive vouchers that can be used with the likes of Amazon, Netflix and Spotify.
The new Fiat 500 is equipped with a fresh infotainment system that features an eco:Score function. This gives an efficiency rating for drivers' performance, so the more frugal you are the more KiriCoins you'll collect. The cryptocurrency is collected in a virtual wallet in the Fiat app.
Kiri Technologies is a UK-based sustainable tech start-up, which has developed the new system exclusively for Fiat parent company Stellantis's e-Mobility offerings. The digital Kiri platform is available in 13 countries.
The tech collects driving data, such as speed and distance travelled, and uploads this to the Kiri cloud. This data is then automatically converted into KiriCoins, with greater rewards for more impressive driving performance.
Users can then download these tokens to their smartphones for use in purchasing products and services from the Kiri marketplace.
Fiat claims that driving normally in towns or cities for one kilometre (0.6 miles) is roughly equivalent to one KiriCoin, with each KiriCoin worth two Euro cents (just under 2p). Based on an average mileage of around 6,200 per year, the Italian brand believes drivers could collect the equivalent of around 150 Euros in rewards - or around £130 at today's exchange rate.
As part of the U-Connect infotainment set-up, drivers will be given an eco:Score between 0 and 100, with the best drivers in major European countries further rewarded.
Fiat and Kiri Technologies believe that this template could be rolled out across other industries to promote sustainable behaviour, such as incentivising the purchase of renewable energy or organic food products. 
Giorgio Neri, New 500 commercial launch manager and Fiat e-Mobility manager, said: "To support a program as innovative and ambitious as Kiri, a car like the New 500 really was needed. An object with cult status, a connected icon that has become a mobility project to reward its customers with a cryptocurrency, to be spent in a dedicated marketplace made up of companies from the fashion, accessories and design industries, all of whom have a fervent belief in sustainability."
Check out the best cars you can buy for £150 per month...