BYD Dolphin is Carbuyer Car of the Year 2024
BYD's bargain EV is named Best Small Electric Car and overall Car of the Year in our sister site's annual awards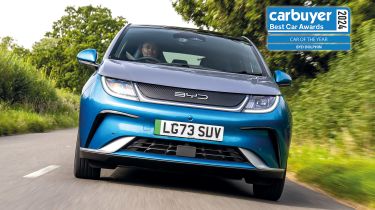 The BYD Dolphin has blown the competition out the water by scooping Car of the Year at the 2024 Carbuyer Best Car Awards. The newcomer was also named Best Small Electric Car, in arguably one of the most hotly-contested segments of all.
Commenting on the win, Carbuyer's judges said: "Compact on the outside, spacious on the inside, the BYD Dolphin is efficient, good to drive, loaded with tech and, with the bigger of the two batteries, comes with a sensible real-world range. It might not be pocket change, but the Dolphin costs a good chunk less than its mainstream rivals."
BYD, despite being a relative newcomer to the UK market, wowed the Carbuyer panel: "It really is quite extraordinary how a brand you've never heard of – albeit one that sells millions of cars in its home market – can so drastically undercut the competition and still offer such a compelling package," they said. "The BYD Dolphin isn't a cheap car, it's a great-value car. There's a difference."
In response, Bono Ge, Country Manager of BYD UK, said: "We are immensely proud of the BYD Dolphin's accomplishments in winning the Carbuyer.co.uk Car of the Year and Small Electric Car of the Year awards. This recognition reflects our commitment to advancing electric mobility and providing consumers with exceptional choices that align with their environmental values."
Celebrating the very best cars currently on sale, Carbuyer – still the only automotive website approved by the Plain English Campaign – announced winners spanning every major segment, from superminis to sports cars. The site also revealed its favourite family cars, company cars, hybrid cars and electric cars, among others.
Alongside the BYD, special mention goes to Skoda, which scooped three awards for its Fabia (Best Small Car), Octavia (Best Estate Car) and Kodiaq (Best Large Family Car) – the latter in spite of the fact a new version is due next year. 
Hyundai took two wins with the latest Kona – reigning Auto Express Car of the Year, no less – being awarded Best Small Family Car, while the fiery i20 N took home Best Hot Hatchback for the third year in a row.
Elsewhere, the Dacia Jogger was Carbuyer's Best Family Car and the Tesla Model Y was Best Company Car. The Ford Ranger was declared Carbuyer's Best Pickup, and the MG4 was Best Family Electric Car. The Honda Civic led a trio of hybrid-car categories, heading home with the Best Hybrid award.
Leading a total of 19 categories including overall Car of the Year, the Dolphin overcame established competition for the top prize. The full list of winners, as well as the site's annual awards' video, can be found at Carbuyer.co.uk.
Click here for the full list of this year's Auto Express New Car Awards winners...