Nissan IMx concept to influence next Qashqai
Nissan revealed the IMx concept at Tokyo, and certain design elements are likely to be carried over to the next-generation Qashqai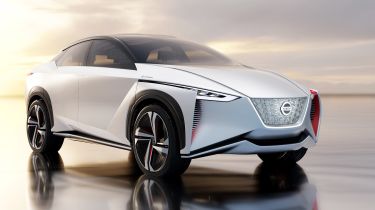 Nissan's IMx concept isn't just a look into the future of the brand's electrification strategy - it could also be a good indication of what to expect from the next generation of Nissan's best-selling crossover, the Qashqai.
Nissan senior vice president of global design, Alfonso Albaisa, denies that the IMx will influence the next-generation Juke, calling the concept 'just a design study', but pointed out that the IMx is a class size bigger than the Juke, suggesting it's more likely to influence the next model up in Nissan's lineup.
• All-electric Nissan IMx SUV concept revealed at Tokyo
Albaisa added that in terms of design the IMx looks no further than about three years into the future - a date that should coincide with a six to seven-year lifecycle for the current Qashqai.
The next Qashqai is unlikely to be quite as dramatic as the IMx however, with Albaisa saying that the Manga-style swoops and slashes seen in Tokyo would be toned down for any production model that followed.
The spacious cabin could remain however, with Nissan becoming 'more cabin-centric' in future - something that has come about as Nissan experiments with the packaging benefits of electrified vehicles in particular. 'EVs will be sold in all segments,' Albaisa told us 'and the SUV shape makes packaging much easier.'
Click here for all the latest from the 2017 Tokyo Motor Show...