Nissan boss: future investment in Sunderland plant hinges on Brexit terms
Renault-Nissan CEO Carlos Ghosn says he is optimistic about the future of the UK but Brexit is a big consideration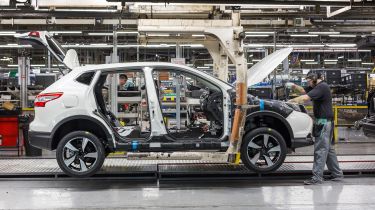 Nissan's Sunderland plant could be at risk of losing investment after the vote for Britain to leave the EU, although Renault-Nissan CEO Carlos Ghosn says he is "reasonably optimistic" about the UK's future in Europe.
"Common sense will prevail from both sides," Mr Ghosn said, adding that "the question is what will happen to customs, trade and circulation of products. That will determine how, and how much we will invest in the UK." Ghosn also described the plant as a European facility based in the UK.
• Brexit spells uncertainty for UK car industry
The Sunderland Nissan factory employs 6,700 workers, and produces the popular Nissan Qashqai and Juke models, as well as the Infiniti Q30 hatchback. 500,000 cars were produced there last year, with most being exported to other European countries.
Ghosn warned that any investment into the facility will have to wait until Britain's relationship with the EU after a split form the EU is made clearer.
• Brexit vote to spell end of pre-registered car bargains
He also said that it was inevitable that car prices in the UK will rise, due to the falling value of the pound, as well as the uncertainty and the possibility of a recession in the UK that will hurt consumer confidence.
The Nissan boss made his comments in Brazil, where the 2016 Olympic games is being held with Nissan as a headline sponsor.
Do you think Brexit will be good for the UK car industry? Let us know in the comments...