Autonomous Nissan Leaf to be demonstrated on UK roads
Nissan confirms new autonomous tech heading to new Leaf and Qashqai at CES, with UK demos next month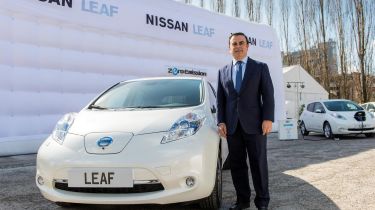 Following on from the company's Consumer Electronics Show (CES) 2017 announcements, Nissan has revealed that demonstrations of its latest autonomous technology will take place in Britain later this year.
Live, on-road experiences in the Leaf with its next-generation technology will take place in London in February – the first live demonstrations of Nissan's autonomous drive technology on public roads in Europe.
Technical and safety experts, plus government officials will be given the opportunity to ride along in the modified Leafs, and the announcement was made following a visit to Nissan's Technical Centre for Europe in Cranfield by the Rt Hon Greg Clark, the UK Secretary of State for Business, Energy and Industrial Strategy.
Nissan CEO Carlos Ghosn revealed the company's advances in autonomous systems in a keynote speech at CES, where he also confirmed that the new Nissan Leaf will get this self-driving tech.
"We work to bring the right technologies for the full spectrum of our vehicles and the most amount of people," Ghosn said. "This takes more than innovation. It takes ingenuity. And it's exactly what we deliver through Nissan Intelligent Mobility."
• The ultimate guide to self-driving vehicles
The latest tech being developed by Nissan is called "Seamless Autonomous Mobility" (SAM). It's been developed with NASA and uses artificial intelligence along with 'human support' to help autonomous vehicles make decisions in unpredictable situations. Nissan says this means autonomous cars can co-exist with human drivers more effectively.
The company has also reaffirmed that the next Qashqai crossover - expected to arrive as a facelifted model later this year - will get the same new autonomous technology when it arrives.
• All the latest from CES 2017
Nissan will also start to work with Japanese internet company DeNA to bring self-driving vehicles to the commercial vehicle market, with the tech planned to be working in central Tokyo by 2020. Ghosn also stated that the new Nissan Leaf will benefit from the autonomous tech developments.
Connected cars often go hand-in-hand with autonomous ones, and Ghosn also confirmed further work with Microsoft from the Renault-Nissan alliance, with the tech firm's Cortana - equivalent to Apple's Siri voice-recognition service - being used as an example of the partnership.
Are you excited by an autonomous future? Let us know in the comments section below...