Nissan Patrol (2004-2009) review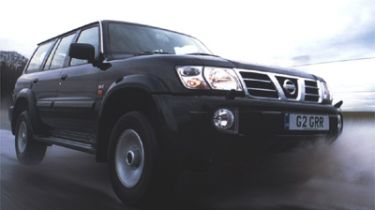 The Patrol is one of the mightiest off roaders that money can buy, but with buyers wanting ever higher levels of luxury in their 4x4s Nissan had a bit of a dilemma. A significant overhaul late in 2004 saw Nissan's rugged range-topping 4x4 get an all new look with every body panel bar the roof being changed. Fared in fog lamps, the Nissan corporate grille and an even more chunky look undoubtedly add appeal to this big machine, as does the revised interior with new fabrics and plastics inside. Top spec models gain Nissan's impressive Birdview satellite navigation system and leather trim as standard, but it's still pretty far off some of its newer rivals in regards to interior appeal. However with all but the most basic models offering seating for seven, it's the perfect school run machine should you live off the beaten path.
Mechanically little has changed, the turbocharged 3.0-litre diesel pumps out plenty of torque, enabling it to tow just about anything, but it's no fireball, especially when fitted to the automatic transmission. The four-wheel-drive system will keep you going whatever the conditions though, the Patrol rightfully held in high regard by those drivers in inhospitable areas who rely on such machines as a lifeline. Practicality, with its big boot and plentiful seats, is high, while standard specifications are generous too. Not able to compete with the upmarket luxury 4x4s in image or desirability there's an honest workmanlike appeal to the Nissan, which allows you to forgive it its dim-witted responses on road. That and it's a fair bit cheaper than the majority of large luxury 4x4s. However, unless you really need its rugged ability and seven seats then Nissan's own Murano offers a far more tempting proposition - particularly on the road.
Engines, performance and drive
0
MPG, CO2 and Running Costs
0
Interior, design and technology
0
Practicality, comfort and boot space
0