Nissan Pulsar video review
Is Nissan's return to the family hatch market a success?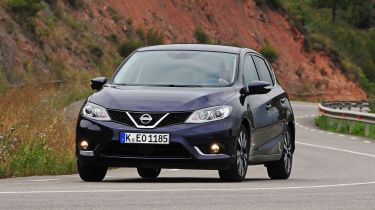 Meet the Nissan Pulsar, costing from a fiver under sixteen grand and aimed at the Vauxhall Astra, Ford Focus and Volkswagen Golf.
Nissan says there are two reasons why it has returned to the hatchback sector. First, no matter how funky the Juke, or verstatile the Qashqai and X-Trail are, there are some buyers who simply don't want an SUV crossover.
The second reason is more odd – Nissan says the Pulsar will attract people whose children have left home, and want to downsize from a crossover.
Under the skin, the Pulsar uses the 1.2-litre petrol and 1.5-litre diesel engines from its crossover cousins, and all the same cabin tech too, including the Nissan Safety Shield with blind-spot and lane-departure warnings, plus a 360-degree parking camera, automatic city braking and moving object detection. While the toys might be bang-up-to-date, and we can't fault the ergonomics or space, it's hardly the most exciting car to sit in.
For the Pulsar to raise a driver's pulse, you've got a while to wait. We hear there are Nismo and Nismo RS versions in the pipeline, ready to elbow their way into the Nurburgring hot hatch fight. Come 2015 there'll also be a 187bhp warm hatch 1.6 to keep things interesting. Until then, this 1.2-litre turbo version is the only petrol Pulsar, though you can also have a 1.5-litre diesel good for 78mpg and 94g/km.
We're pretty tired of manufacturers telling us their latest offering is going to be both thrilling to drive and supremely comfortable, because nine times out of ten, that's nonsense. But at Goodwood earlier this year, Nissan's ex-vice-president, and new Aston Martin CEO, Andy Palmer told us the Pulsar would be much more about smoothness and refinement than fun. And it is.
This turbo motor whines a little but it gets the 0-60mph job done acceptably in 10.7 seconds, and the whole car feels pretty light on its feet, safe and secure. Not that interactive or adjustable, but Mr Palmer also promised noise and refinement levels to beat a VW Golf and Audi A3, and he wasn't joking. It's a very quiet car.
So how do you sum up the Pulsar? There's plenty it does very well: if you want refinement, plenty of tech and huge amounts of rear space, here's your next hatchback. Overall though, the Pulsar is a tad middle of the road. Hopefully there are more exciting ones on the way to spice up the range.